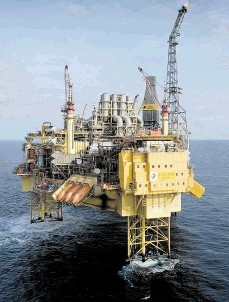 Production on Total's Elgin platform is to resume in the next few days – a year after gas started pouring out of the installation.
In March last year, all 238 workers on board the North Sea rig had to be evacuated as gas started spewing out of the G4 well at the rate of two tonnes an hour. Specialists were called in to stem the leak.
Now the Health and Safety Executive (HSE) has accepted the safety case for the Elgin installation and indicated production can restart.
Last night a spokesman for the HSE said: "Today we informed Total that we have accepted the safety case for the Elgin installation.
This follows an incident on March 25 last year, which resulted in a significant leak of gas.
"The company undertook to demonstrate that it had re-evaluated the risks associated with operating the installation by resubmitting the safety case required by HSE to permit production.
"It will now be for Total to decide when to restart operations."
Bosses at the French energy giant hoped the platform would be operational again by the end of 2012.
As a result, the rig has been fully manned for a number of months and, if all goes to plan, the company hopes production will return to normal within a matter of days.
It has been previously estimated that the leak would cost the firm £186million-£238million in lost production.
Before the incident, Total's production from Elgin was 55,000 barrels of oil equivalent per day, providing about 3% of the UK's gas.
The company also previously said it believed the gas and condensate had leaked into part of the well deep beneath the seabed.
It was believed to be coming from a reservoir which had not been tapped, above where the well had previously been plugged. This then leaked out of the wellhead on the platform.
HSE's investigation into the incident is still ongoing and criminal prosecutions could still be brought against the company.