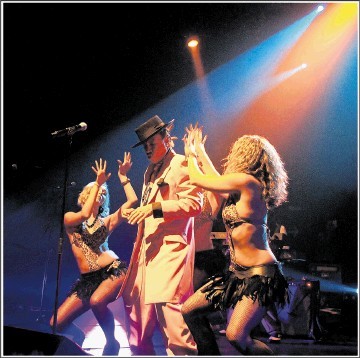 One of the top pop groups of the 1980s will be the headline act at the energy industry's biggest night out of the year.
Kid Creole and the Coconuts, who enjoyed a string of top 10 hits, will provide the musical setting for hundreds of guests to let their hair down at the Press and Journal Energy Ball, in association with oil and gas services firm Hunting.
Kid Creole and his glamorous supporting singers have a back catalogue of chart-toppers, including Annie, I'm Not Your Daddy and I'm a Wonderful Thing Baby to call on, and are sure to make the event in Aberdeen a night to remember.
Bafta-winning impressionist Rory Bremner is also on the bill for this year's Energy Ball, and will be sending up everyone from film stars and sportsmen to fellow comedians.
The Aberdeen Exhibition and Conference Centre will be transformed for the event on Saturday, October 5, with attractions including a Japanese sake bar, provided by sponsor Hunting Energy Services, and a Formula 1 simulator.
Press and Journal editor Damian Bates described the black-tie event, now in its sixth year, as one of the highlights of the social calendar and said organisers had broken new ground by signing up Kid Creole and his band.
He said: "Tickets are going fast for this super event – the biggest and best of its kind in Scotland – and we want as many people as possible to celebrate the oil and gas sector with us on this fabulous night.
"We have raised the bar with this prestigious night and know it will be the best we have ever had."
More than 1,300 people attended last year, and guests can expect great food to accompany the entertainment.
Brian Horsburgh, managing director of the AECC, said the centre's team was looking forward to hosting one of the top events in the energy sector's calendar.
"Being the national energy exhibition centre, AECC is the natural choice for this event," he said.
"Our specialist in-house teams provide an experience unrivalled in the north-east and we are proud to host this event."