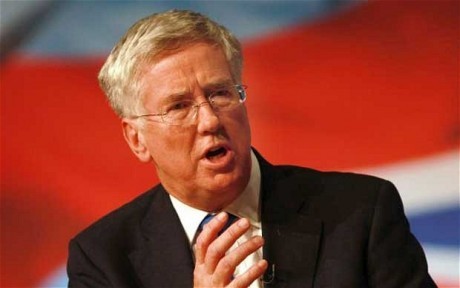 David Cameron's promise to deliver stability to the oil and gas industry was in tatters last night after he appointed a 14th energy minister in 16 years.
The shock reshuffle will see Business Minister Michael Fallon add the North Sea brief to his responsibilities, taking over from John Hayes, who leaves after just six months.
The decision was announced yesterday, at the same time as three Cabinet members unveiled the coalition government's long-term strategy for the oil and gas sector in Aberdeen.
The latest switch – branded "inexcusable" by one industry leader – comes despite the prime minister giving pre-election assurances that the ministerial merry-go-round would end when he was in power.
On a visit to Aberdeen just weeks before entering Downing Street in April 2010, he told the Press and Journal: "I do completely understand the importance of consistency and having dedicated ministers who can do the job for a decent period of time – that is something I can pledge."
Last September, the prime minister stunned the industry when he sacked widely respected energy minister Charles Hendry.
Mr Hendry, who visited Aberdeen 10 times in two-and-a-half years, later revealed to the P&J that Mr Cameron said he needed "new, young talent". Mr Hayes is one year older.
Jim Milne, chairman and managing director of Aberdeen oil service firm Balmoral Group, said: "The way the energy portfolio is batted from pillar to post is inexcusable, particularly as the sector is supporting the entire nation."
Aberdeen and Grampian Chamber of Commerce chief executive Robert Collier said: "A revolving door for ministers does not give our members confidence that stability will be delivered, and past mistakes will not be repeated."
Mr Hayes, who visited Aberdeen for the first time this month, is to become minister without portfolio. He has been given the task of repairing the Tory leader's links with backbenchers.
Mr Fallon was born in Perth, went to school in Dunfermline and university at St Andrews. He represents the Kent seat of Sevenoaks.
His appointment marks a return of the practice of the energy portfolio being linked with the business department at Whitehall, as it was until Gordon Brown created the Department of Energy and Climate Change in 2008.
Last night, Mr Fallon said: "Both departments share a strong focus on business and the economy and I am delighted to be given the opportunity to build on their cross-cutting work on this agenda."
The SNP's energy spokesman at Westminster, Mike Weir, said: "He will be a part-time swing-door minister, the third to have the job since the coalition was formed."