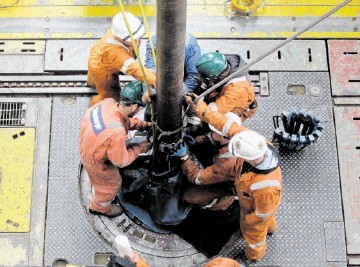 Heavy-oil explorer Xcite Energy yesterday said it had found more than double the oil previously expected at its Bentley field, east of Shetland.
After extensive well tests last year and a seismic survey, it is now expected to produce up to 250million barrels of proven and probable oil by 2050.
The Aberdeen-based firm, which calculated daily production would rise from an initial 45,000 barrels of oil per day (bpd) to 57,000bpd, said the project was now a major asset for the UK North Sea.
The company's shares closed up 8.3% at 118p.
The field is located close to other proven reservoirs including Statoil's Bressay and EnQuest's Kraken project.
Testing of two wells at Bentley was completed last September, with more than 149,000 barrels of heavy oil produced during the 68 days of tests.
Chief executive Rupert Cole said: "We shall now continue to move the project forward with ongoing studies into the potential for enhanced oil recovery, which has yet to be factored into the reserves assessment."
"We are looking to increase our reserve-based lending facility significantly, leaving a relatively modest proportion (of financing) for a farm-out."
Xcite – which holds and operates 100% of Bentley – is now updating its field-development plan with the number of required platforms reduced from three to two and a storage vessel replacing a planned floating production ship.
Production is hoped to start in 2015, with staffing at the firm's Aberdeen operations centre dependent on the nature of any future farm-out deal.
Mr Cole said it was the right time to evaluate suitable farm-in partners for Bentley.
The company, which has its headquarters in London, doubled its permanent staff over the past year to 20, with 12 of them based in Aberdeen.
Alan MacPhee, investment manager at financial-planning specialist Brewin Dolphin in Aberdeen, said: "The next step for Xcite will be funding the future development of its assets.
"The reserve report has significant benefits for Xcite given its reserves-based funding strategy and should allow the firm to increase its borrowing capacity considerably.
"All in all, it is an excellent update from Xcite, providing a fillip for longer-term shareholders who have experienced somewhat of a rollercoaster ride."
The firm also won three licences last year for prospects adjacent to the field which it plans to evaluate and which could be tied back to the Bentley hub.
Timeline to development
October 2002: Two former Conoco engineers Steve Kew and Richard Smith create Xcite Energy with current chief executive Rupert Cole.
November 2007: Xcite joins the Alternative Investment Market (Aim) with 100% interest in the Bentley field as its core asset. The field, one of the largest proven but undeveloped fields in the North Sea, was named after the 1930s racing car that founder Mr Kew dreamed of owning.
December 2010: Xcite's share price jumps as the first test well finds significant reserves of oil. Development cost were estimated at more than £1billion.
March 2012: Drilling of two wells started at Bentley, with estimated reserves at the time of 116million barrels of recoverable oil.
June 2012. The company announced a £99million loan facility to help complete development work.
August 2012: Mr Smith retired as chief executive and was replaced by chief financial officer and fellow co-founder Mr Cole, while Mr Kew took over as chief operating officer.
November 2012: The firm said 149,000 barrels of oil were extracted during the well-testing process, securing revenue of £13.3million.