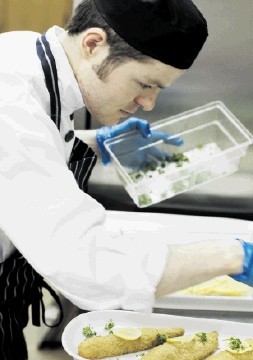 Foodservice and facility-management firm Aramark said yesterday it had won one of the biggest North Sea contracts in its sector, a £27million deal with Total.
The five-year agreement sees Aramark providing catering, cleaning, laundry, janitorial, maintenance, emergency response and helideck services on three offshore platforms for the French oil major.
Aramark, whose Scottish head office is at Dyce, Aberdeen, is taking over the work from Compass Group subsidiary ESS.
A spokesman for the new contractor said staff were transferring over from ESS and job numbers would be consistent with before.
No extra jobs were being created, he added.
He was unable to say how many workers were involved, because of the figure being "commercially confidential".
The contract covers the Elgin Franklin, Dunbar and North Alwyn platforms.
Mike Ball, managing director for Aramark Scotland and offshore, said: "When people are working offshore, their platforms are both their workplaces and their second homes
"In this environment, staff will be at their most productive when they are healthy in body and mind, comfortable in their surroundings and feel well looked after.
"This premise was at the heart of our proposals for working with Total, backed by our world-class health and safety track record.
"We are thrilled to have won this business, cementing our position as one of the leading suppliers of outsourced services to the offshore industry."
In addition, Aramark will support Total in a one-off project to deliver services on the Safe Bristolia accommodation barge for 173 days while she is alongside the Elgin Franklin platform.
Aramark's offshore arm looks after thousands of employees who work on offshore gas and oil installations and in the marine industry. Hotel and catering services and facility management are the key activities in the sector, but the division's operations also include helideck management, gym equipment maintenance and architectural accommodation refurbishments.
The offshore services are provided in the UK, Denmark and the Middle East.
Aramark employs about 1,500 people in Scotland and a further 9,500 elsewhere in the UK, within a 250,000-strong global workforce.
The company serves nearly 2billion meals a year and manages 1.6billion square feet of property.