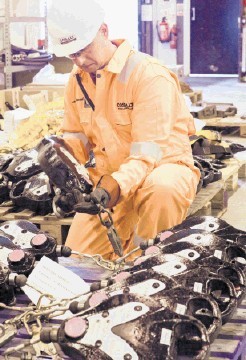 Cosalt collapsed with more than £70million of debt, according to documents just published by the engineering group's administrator.
PwC added it was unlikely some creditors would receive any return after the Grimsby-based business fell into administration earlier this year.
Its statement of proposals, just filed with Companies House, also revealed Cosalt's offshore division was sold to the owner of rival ATR for £6.1million.
NBGI Private Equity had previously refused to disclose the value of the deal for Cosalt Offshore.
PwC said the sale helped to secure the jobs of the offshore division's 265 employees, including nearly 250 in Aberdeen.
The proceeds will be used to pay off some of the collapsed parent's debts owed to secured creditors, who are due more than £63million but have been warned to expect no more than 17p in the pound.
The secured creditor list includes the company's pension fund deficit of £51.8million and lenders HSBC and the Royal Bank of Scotland, who are due a combined £11.4million.
Other creditors, including employees due unpaid wages or holiday pay, have been told to expect no return.
The administrator also sold Cosalt's Stockport-based workwear operation to former chairman and majority shareholder David Ross, who bought the business for £5.8million. The deal for the workwear arm included £25,000 of "Cosalt memorabilia", made up of historic books and records, pictures, furniture and a stained-glass window.
After buying Cosalt Offshore in February, private-equity firm NBGI said the business and ATR would employ 400 staff and have annual turnover of £55million between them.
ATR chief executive Keith Moorhouse said yesterday the combined business was "fast becoming a major global force in lifting and equipment sales, rental and services to the oil and gas industry".
He said the Cosalt Offshore part of the business was already performing above expectations, adding: "Exceptionally-strong trading in the first quarter of 2013 has led to more than £1million increase in turnover in this period, and there is a very strong order book going forward.
"This is great news for our business overall, but also for Cosalt Offshore's staff, clients and suppliers."