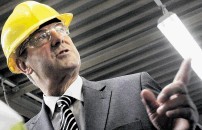 Scottish engineering firm Weir Group said yesterday chairman Lord Smith of Kelvin would step down at the end of the year.
Lord Smith – who has led the board since 2002 – will be succeeded by Charles Berry, who was appointed deputy chairman yesterday. Mr Berry, who joined Weir's board in March, will take on the top role on January 1.
Lord Smith said he had served as chairman during a momentous and exciting time for the company, adding: "The business has been transformed under the leadership of two outstanding chief executives, Mark Selway and Keith Cochrane.
"Weir today is a focused and high-performing group, with an enviable track record of growth and a clear sense of its future direction."
Glasgow-based Weir also said recent acquisitions would help it to offset a dip in orders from the start of the year. Order input in the first quarter of 2013 was down 14% on the same period last year, it added.
The firm said it still expected low single-digit turnover growth in 2013, however, warning that first half revenue would be lower, but improving economic and market conditions would boost turnover in the final six months of the year.
Weir Group, which employs about 14,000 people worldwide including at bases at Alloa and in Aberdeen, had turnover of over £2.5billion last year.