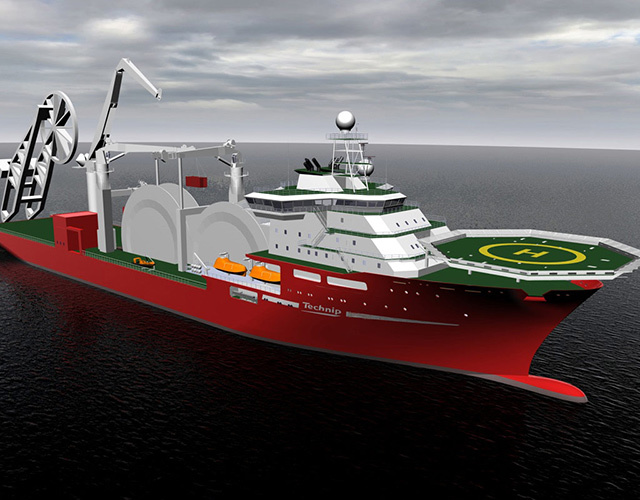 Oil service giant Technip officially named its latest pipelay vessel on Friday at Florø, Norway.
The renaming comes after the French firm's turnover in the first quarter of 2013 increased by more than 14% to £1.7billion helped by the strength of its subsea business, while group operating income increased by 5% to £146.9million.
During the ceremony held at Westcon's Yard, the Deep Energy was named by the vessel's godmother, Patricia Pilenko – wife of Thierry Pilenko, Technip's chairman and chief executive.
"The Deep Energy follows in the proud tradition of Technip's industry leading vessels, the Deep Blue and the Apache II," Mr Pilenko said.
The vessel will support subsea developments in shallow to ultra-deep waters of up to 3,000 meters.  Specifically designed to operate in the North Sea, the Atlantic basin and intercontinental projects, it has a service speed of 19.5 knots.
The Deep Energy is a dynamic positioning (DP) class 3 vessel, designed to handle subsea installation of reeled rigid pipe of up to 18inch outer diameter. It has a normal operating dynamic top tension of 450 tons and is equipped with a PLET(1) handling system.
It is also capable of installing flexible products, umbilicals, steel tube umbilicals and a variety of mid-line and end structures.