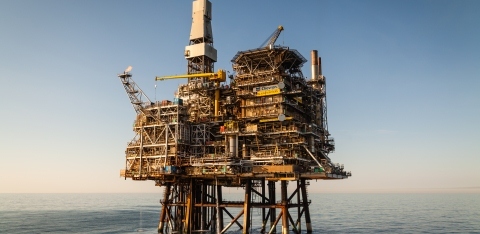 Ithaca Energy's oil find at Fotla has been described as a "ray of light" for UK exploration, in what has otherwise been a tough year.
Drilling work at the North Sea prospect, around seven miles south-west of the Alba Northern platform, got underway using the WilPheonix rig last month.
Fotla had originally been planned for last year but was temporarily shelved due to the impact of Covid.
Delek, Ithaca's parent firm, estimates that Fotla has mid case (best estimate) potentially recoverable resources of 21 million barrels of oil (boe), rising to 41m in the high case or dropping to 10m in the low case.
In its second quarter financial results, Ithaca confirmed that an exploration well had "encountered hydrocarbons" in the target sand.
As such, the decision has been made to "sidetrack to an appraisal location to delineate the discovery".
Prior to drilling, sand thickness, hydrocarbon volumes and oil quality were all put forward as potential risks.
Ithaca has a 60% interest in Fotla, with Spirit Energy holding the remaining 40%.
The find is the UK's first of 2021 and has been hailed by Wood Mackenzie as a "ray of light in what's been a tough year for UK exploration activity".
The research and consultancy body said 2021 is on track for the fewest number of completed wells since the 1960s.
Lucy King, a research analyst with Wood Mackenzie's North Sea upstream team, said: "Despite the drop in activity, success at Fotla continues a recent renaissance in UK exploration performance. Discovered resource per well has grown steadily in recent years, reaching over 20 million barrels of oil equivalent (boe) since 2020, which is in line with global averages.
"Success rates have improved too. The average economically viable and commercial success rate for the UK since 2020 sits at over 40%, comfortably above the global average over the same period."
King added that, based on resources of 21 million boe and its proximity to the nearby Alba infrastructure, Wood Mackenzie, a Verisk company assumes the discovery could be an "ideal candidate" for a short-cycle, high-return tie-back to the Ithaca-operated facilities.
This is Ithaca's second discovery since the start of 2020, with success as a partner in the TotalEnergies-operated Isabella discovery last year.
King said: "More opportunities for success are on the horizon, with interests in the Harbour-Energy operated Jade South exploration well currently drilling, and its operated Fortriu well – on the same block as Fotla – due to spud next year."
Recommended for you

UK North Sea sees chance for political reprieve in energy crisis