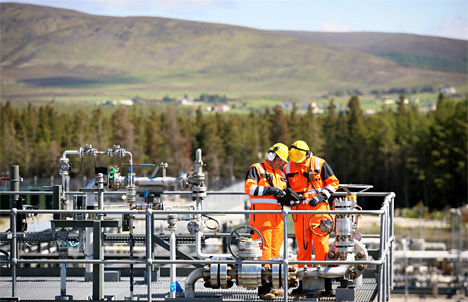 Equinor will sell its non-operated equity stake in Ireland's Corrib gas project to Vermillion Energy, in a $434 million (£326m) deal.
The Corrib field started production in 2015 and is located 52 miles off Ireland's northwest coast in water depths of around 350 metres.
The field provides around 95% of Ireland's total gas production, which is exported via pipeline to an onshore gas processing terminal and on to the Bord Gais Eireann linkline to the onshore gas grid.
Equinor owns 36.5% of the Corrib project, alongside Calgary-headquartered operator Vermilion (20%) and Nephin Energy (43.5%).
In a statement Equinor said the $434 million transaction would be organised through a share sale of Equinor Energy Ireland Limited, a wholly owned subsidiary of Equinor ASA.
Completion of the sale would take Vermillion's operated stake in the field to 56.5%. Vermillion said Corrib is expected to produce approximately 7,700 boepd in 2022, and would add approximately 23 million barrel of oil equivalent (boe) of 2P reserves to its portfolio.
As part of the transaction, Equinor and Vermilion have agreed to hedge approximately 70% of production for 2022 and 2023, based on NBP forward strip prices of $22.00-$23.00/mmbtu for 2022 and $14.50-$15.00/mmbtu for 2023.
The two have also agreed a contingent payment that will be paid on a portion of the revenue if European gas prices exceed a given floor level.
Vermillion said this would allow it to lock in the majority of cash flow for the next two years, during a period of "unprecedented high European natural gas prices," and also provides high certainty of an approximate two-year payback period.
The transaction has an effective date of January 1, 2022 and is expected to close during the second half of 2022, pending approvals.
Commenting on the sale, Equinor senior vice president for the United Kingdom & Ireland, Arne Gürtner, said: "The Corrib field has been an important non-operated project for Equinor for several years. We have taken the decision to sell the asset to focus our portfolio, in line with our strategy, to capture value from the current strong market and to free up capital that we can re-invest elsewhere."
Equinor confirmed that the sale of Corrib means the company "will no longer have [an] active business presence in Ireland" following its decision earlier this month to withdraw from an early phase offshore wind project.
Proposed plans had reportedly included a floating windfarm of up to 1.5GW at Moneypoint off the coasts of counties Clare and Kerry.