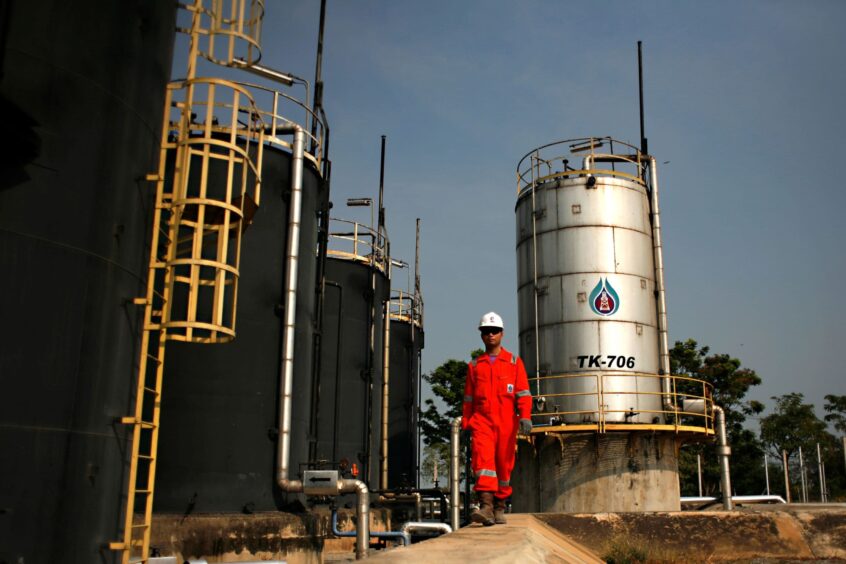 Thailand's PTT Exploration & Production (PTTEP) has raised its capital spending plan for upstream oil and gas to $16.5 billion over the next five years. PTTEP (BKK:PTTEP) will also spend an additional $4.4 billion developing its new energy business, which includes hydrogen, wind and solar, through to 2026.
The partially state-backed company told investors yesterday that yearly capital spending will rise to $3.3 billion over the next five years, up from previous guidance of $2.8 billion.
"The new plan shows higher production growth although at the expense of higher costs, as well as acquisitions, and lower free cash flow (FCF) yield," analysts at investment research house Bernstein said in a note.
PTTEP has increased its production guidance by 6% over 2021-26 partly driven by acquisitions. However, the upstream player did not announce any new development projects over the next five years. Expansion is expected to come from domestic assets Bongkot and Erawan, and Algeria this year. Long-term growth will be driven by Mozambique LNG, which remains stalled due to security concerns, Vietnam, and Block SK410B in Sarawak, Malaysia.
PTTEP is also diversifying into new energy with a planned spend of $4.4 billion over the five-year term on capital expenditure and operating costs. "Key new businesses cover renewable energy (solar and wind), the commercialisation of in-house technologies, new forms of energy (dubbed future energy), such as hydrogen, carbon capture and utilisation (CCU), AI & robotics, as well as the study and development of gas/LNG-to-Power," said PTTEP.
"The 5% CAGR growth over the next five years is comparable with CNOOC. Although PTTEP has a lower dividend yield than CNOOC and growth has come inorganically through acquisitions," said Bernstein.
Overall, both production and capex guidance has risen substantially, added the investment firm. The significant increase in production, particularly from 2022 is largely driven by PTTEP's increased working interests in Erawan and Bongkot, which together will add output of 70,000 barrels per day, added the firm.
"Production guidance has increased across all years on average by 6% from last year's guidance. Oil and gas production for 2021 is expected to grow from 467,000 barrels of oil equivalent per day (boed) to 528,000 boed by 2026 (5% CAGR), which is higher than our estimate of 488,000 boed by 2026," reported Bernstein.
"PTTEP is expected to deliver 200 million cubic feet per day (cf/d) of gas in 2022 and 700 million cf/d in 2023 at Bongkot G2/61 with first gas in 2022. Access for Erawan G1/61 has been behind schedule which could delay gas production under new PSC. The impact is being evaluated with remediation plan to compensate potential volume shortfall from other projects. For G2/61 Project (Bongkot field), we have good progress in transition as planned," added the firm.
"In Africa, PTTEP continues to expect first production at Algeria HBR Phase 1 in 2H21 (10-13kbd). The second phase, production capacity is planned to ramp up to around 50-60kbd in 2026," said Bernstein.
"Mozambique LNG project has declared Force Majeure since April. The operator is in close discussion and provides required support from the government to accelerate the restoration of security, to allow the safe project resumption. In the meantime, the project has moved forward with some operations running outside Mozambique," added the firm.
In total PTTEP will spend $27.1 billion over the next five years in the oil and gas sector. This covers both capex and operating costs.
"FCF yield will average 7% over the five-year plan. PTTEP held $$2 billion in cash and $3.9 billion in debt with net gearing at 13.5%. Proforma FCF will average $0.9 billion annually with FCF yield of 7%. At the current payout ratio of 50%, PTTEP could deliver a dividend yield of 5.6%," noted Bernstein.
Bernstein predicts that production will plateau at around 190 million boe in early 2030 before declining from there as the research firm assumes PTTEP prioritises cash return over re-investment. PTTEP pumped around 130 million boe in 2020.
"We assume minimal re-investment post 2030 in oil and gas which leads to a declining reserves outlook towards 2050," said Bernstein.
"With regards to 2022 investment budget allocation, PTTEP aims to maintain production volumes from the major assets as well as raising outputs from Bongkot and Arthit fields to serve domestic demand of the country. For the 5-year plan, we will focus on accelerating the development of oil and gas fields in Malaysia after series of successful petroleum discoveries. Based on the investment plan over 5 years, the company expects CAGR at around 5%. Meanwhile, PTTEP targets to invest in new businesses (Beyond E&P) during energy transition period, leaping for low-carbon organisation to create sustainable growth in the long term," PTTEP said in a statement yesterday.
Recommended for you

SSE boosts investment plan to spend energy crisis cash