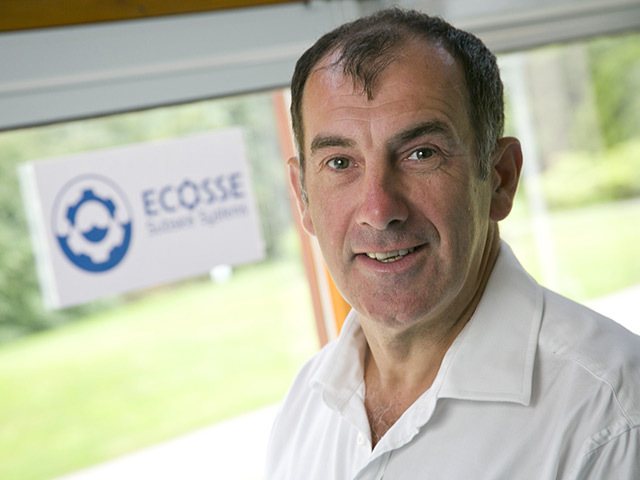 The tranquil surroundings of Ecosse Subsea Systems' (ESS) new home is at odds with the often turbulent offshore conditions in which its range of subsea technologies is required to perform.
However, swapping the city for country is a move which will help ESS achieve its goal of doubling its onshore workforce in three years.
After upping sticks from Aberdeen to Banchory, representing an investment of £400,000, a recruitment campaign is under way to fill various posts against a background of strong tender activity.
Founded by managing director Mike Wilson, ESS has developed and patented a number of subsea technologies and tools for the oil and gas industry, but the 49-year-old said the renewables sector was also becoming a key market.
The firm's biggest success to date has been with its Scar ploughing system, a subsea tool which clears boulders and specialises in trenching and cable-laying projects.
The company won a £1million deal with energy major Total to carry out subsea excavation work west of Shetland last year, and work on windfarm projects for Siem Offshore Contractors and E.on soon followed.
Mr Wilson said it had been a challenge persuading operators to try something new. He added: "When you are pioneering new technologies or different ways of doing things, getting the hard evidence that your methods work is difficult but crucial to your success.
"It has taken great perseverance but now we have a track record of successful projects and that is reflected in an upsurge in tenders we are being asked to bid for. One of the major barriers to innovative companies like our own is the traditional conservatism of a supply chain which is reluctant to try new ways of doings things and which stifles new developments and technologies.
"Fortunately, forward-thinking operators are now coming direct to us for fresh solutions and our patience, determination and belief in what we are doing is now paying off."
Mr Wilson predicts the payoff will be turnover of around £30million within three years – the company's annual turnover in the year to March 2012 was £4.9million, but the figure in the latest year is expected to be much higher.
The company – which employs 13 people onshore and 50 offshore – has clearly come a long way since Mr Wilson founded it 17 years ago.
The Turriff-born engineer started the company after stints offshore with UDI and Northern Ocean Services, having graduated with an HND in engineering in 1985.
"When I was at Banff Academy I wanted to be a car mechanic because I did not like school, but my parents wanted me to keep studying so I went for the HND," he said.
Mr Wilson – who lives at Banchory with partner Jamie and children Orla, 7, and Finn, 3 – said ESS was now receiving inquiries from as far afield as the Arctic and Brazil, but added he was also focused on growth in more familiar territory.
Like other technology companies, ESS is reaping the benefits of an extremely buoyant UK North Sea, but Mr Wilson has his eye on carving out a niche in the Norwegian market.
He said: "Norway is on our doorstep, it is using the type of services and skills we provide, and it has a vast supply of the ships we need to be able to do our work, so our next step is to create a Norwegian entity to target this market."
Mike Wilson: Q&A
Who helped you get where you are today?
Family, colleagues and friends, who have all offered advice and encouragement.
What do you still hope to achieve in business?
Build a sustainable family and colleague-owned business.
What is your greatest business challenge today?
Balancing resources and opportunities, managing growth and seeing the changes brought through while keeping everyone on board.
If you were in power in government, what would you change?
I'd get the government to keep 1-2% of VAT revenue for large companies. That would stop the ones with £1billion a year turnover but no profit dodging their tax.
Where is your favourite place to go on holiday?
Cullen and Cape Town, in that order
What are you reading, listening to or glued to on TV?
I don't really watch TV apart from news and some sport. Oddly, I love listening to the Test cricket. I also love music and have a wide range on my iPod.
If you were a character in a TV series or movie, who would you be?
Steve McQueen in the film Le Mans.
What do you drive and dream of driving?
My favourite toys are my classic 1967 TR4A car and my Ducati 916 motorbike. I'd like to drive at Le Mans 24 Hours.
What would your children say about you?
Kind, playful, busy, grumpy and that I like taking them to the park and out for a run in the country in the TR4.
Which charity do you support and why?
I like rugby and we support Tryumph for Teenage Cancer.
What's on your bucket list; the things you still want to accomplish?
Win a few golf tournaments and climb my first Munro with Jamie and the kids.
Recommended for you

What's next for IR35? Hirer questions answered