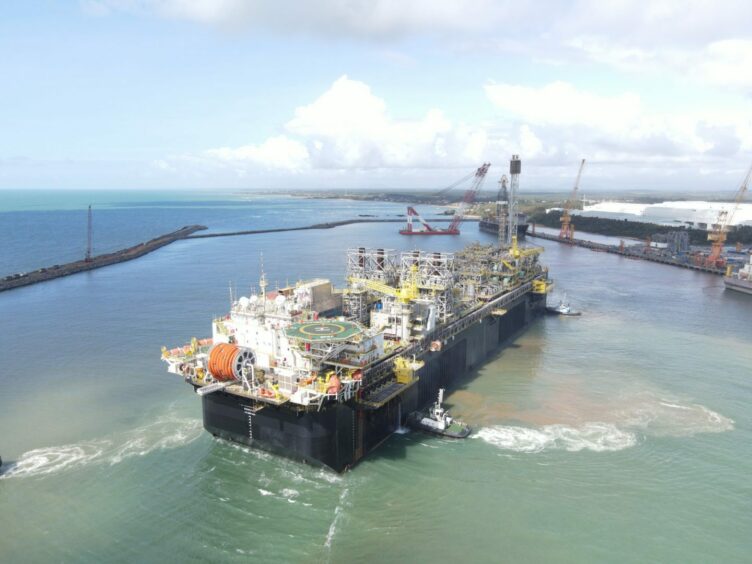 More than 2 million barrels per day of floating production system (FPS) throughput capacity could be sanctioned this year – the highest for more than a decade – according to analysis from Westwood Global Energy.
As the final month of the year ticks on, Westwood reports a total of 1.9 million barrels of oil equivalent per day of FPS throughput capacity has been sanctioned so far – or around 1.3 million bpd of oil and 3.8 billion cubic feet per day of gas.
This represents a 7% increase on 2021, with Westwood anticipating an additional 180,000 boepd of FPS capacity to be sanctioned before the end of the year.
With a few remaining projects still set to be sanctioned before year-end – and despite the deferral of several major contracts – 2022 will still represent the highest FPS throughput capacity sanctioned since 2010.
13 FPS units have been approved so far this year, with an estimated engineering, procurement and construction (EPC) value of $15 billion – a 9% rise on last year.
Of these, 10 were floating production, storage and offloading (FPSO) units and three were floating production semi-submersible (FPSS) platforms, while no spars nor tension leg platforms (TLPs) were sanctioned this year.
Despite the increase however, rising cost pressures meant several units were deferred.
Westwood had expected 25 projects worth $19 billion to be sanctioned this year, but delays and development concept changes to projects such as Equinor's Wisting development in Norway, Shell's Gato do Mato in Brazil, Shell's Linnorm scheme in Norway and Santos' Dorado project in Australia prompted a 14% downward revision.
Total EPC award value this year is now expected to reach approximately $16.4bn, driven by 15 units (eight newbuilds, two conversions and five upgrades or redeployments). Meanwhile, Westwood says upgrade work on Cenovus Energy's Sea Rose FPSO unit and an EPC contract for CNOOC's Deepwater 2 FPSS could still be sanctioned before the end of the year.
FPS market in 2023
Next year the group estimates total 2.2 million boepd pf capacity could be given the go-ahead, representing an EPC award value of $16bn.
Projects are largely centred in Latin America and West Africa, with major awards expected to include Petrobras' P-81, P-84 and P-85 FPSOs off Brazil, as well as Equinor's Pao de Acucar unit.
In Guyana, Modec recently signed the front-end engineering and design (FEED) contract for the fifth Stabroek FPSO unit to be deployed on ExxonMobil's Uaru field, though the award for this capacity relies on governmental approvals of the field development plan and a final investment decision by the operator.
Other FPS units expected to watch in 2023 include Azule Energy's Agogo and TotalEnergies' Cameia FPSOs – both in Angola- Eni's Baleine FPSO in Cote d'Ivoire and Woodside's Trion FPSS in Mexico.
Supply chain inflation 'a concern'
Westwood notes that cost deflation, simplification and standardisation have seen the EPC cost of FPSO units fall by an average of $7,950/boepd of throughput capacity – a discount of nearly 40% compared with highs of $12,795/boepd seen during the 2013-14 boom period.
Yet increasing volumes of tenders and greater industry activity have seen average 2022 EPC costs rise to $9,310/boepd.
However, it finds that rising costs are causing "significant delays" to major projects and concerns over shipyard capacity persist as both war in Ukraine and the outcome of China's 'Zero-Covid' policy fuel further uncertainties.
Should this inflation continue, delayed projects such as Equinor's Rosebank project in the North Sea and its Bay Du Nord development in Canada could see further delays, analysts said, alongside projects like Shell's Bonga SW in Nigeria and TotalEnergies' Block 58 – all of which may drag on the headline numbers of throughput capacity sanctioned over the period.
Recommended for you

Africa to take centre stage for FLNG plans