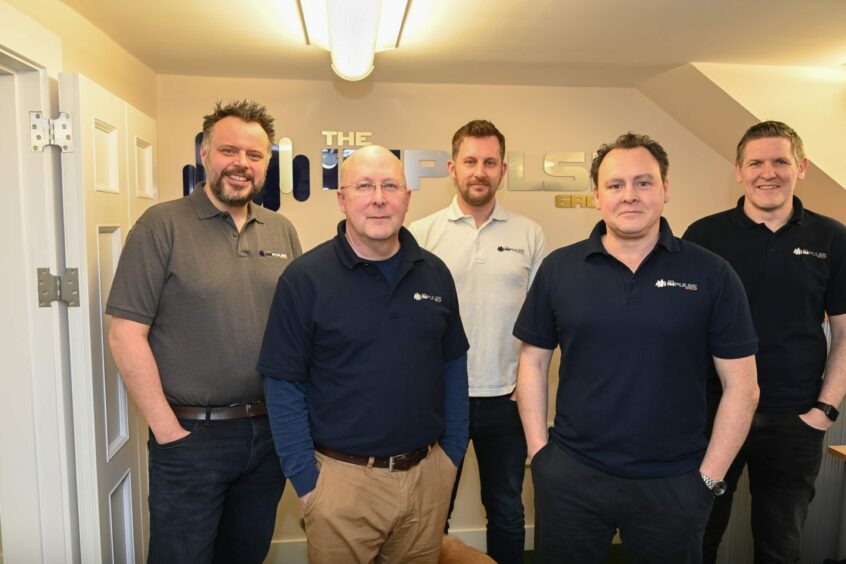 Impulse Group recently set up offices in Aberdeen and looks to take on dedicated engineers with between nine and 12 positions set to be created in the Granite City.
The flexible pipe engineering group is seeking to drive recruitment across the region as it targets annual turnover of £50m before the end of the decade.
Expanding from its office in Morpeth, north-east England, the firm has opened its second office in Aberdeen, with a trio of employees.
Impulse is looking to expand its presence in the north-east of Scotland and the firm's boss is familiar with the region.
Chris Spraggon, managing director of Impulse Group told Energy Voice: "I've worked for companies in Aberdeen before so I'm very familiar with the driving and the train route.
"It's handy that we're two minutes from Morpeth and then two minutes from Aberdeen station. It makes the commute very easy if we need to."
Supporting the local workforce, the group's managing director says the "idea of the Aberdeen office is to recruit in Aberdeen, that's what we're here for."
He added: "This will be an engineering office."
'I always go after really good engineers'
The firm currently has 17 employees on its books between its Morpeth and Aberdeen offices and by the end of the year, Impulse Group looks to hire 15 more people to hit targets.
"I think we'll go to about 20 in Newcastle and about 12 up here," Mr Spraggon said.
The firm from north-east England is looking to recruit engineers of all levels for its Granite City facility.
"We have job specs out for engineer grade and then senior and lead so we wouldn't turn down principles, we have our chief engineer Gilles working here and so he's based in Aberdeen. We just want to build."
In the firm's English office, the management team have managed to foster a friendly and social work setting.
Until recently the firm was using a local pub as a meeting room until the facility expanded to encompass a conference room.
This ethos of creating a social and friendly workspace is something Impulse Group wants to carry forward to its Aberdeen office.
When asked what type of people Impulse Group is looking for, the company's managing director said: "I always go after really good engineers if I can find them, specifically if they've got flexible pipe experience.
"We probably have one of the best, if not the best selection of flexible pipe engineers, we're easily over 100 years worth of pure flexible pipe experience between us so we just want to grow on that."
Setting up shop
After building up 20 years of experience in flexible pipes, Chris Spraggon was "really frustrated" with the issues that were being raised in the space, he explained, "the way that people were dealing with them and companies were dealing with the approach to integrity management just wasn't good.
"I wanted to start a company that would educate the industry but also learn from the industry so if we come across any good engineers, which I'm sure we'll find plenty in Aberdeen, we'll hire them."
Engineering positions at the firm are objective based, meaning that employees only have to spend half their time on the clock in the office and there is no set schedule for when they clock in and out.
If someone has an appointment there is no need to have time off approved as long as the tasks set are completed on time. This is something that some employees that have moved from larger firms have found strange to begin with.
Adam Armstrong, director of engineering explained: "It doesn't really matter which day you work from home or which hours you keep as long as your work rate and quality is good.
"You can tell because people still find it difficult to do it, so you will get people going 'I'm working from home tomorrow, just to let you know', it doesn't matter.
"Or, 'I'm going to nip off early', you can't go home early if there's no finishing time."
'£50 million turnover' by 2029
Looking to expand in terms of revenue as well as workforce, Mr Spraggon said: "Our target for 2029 is £50 million turnover."
Martin Harbottle technical director at Impulse Group added: "We turned over nearly £2,000,000 this year.
"That has been word of mouth, we've sent tech offshore to Vietnam and the client didn't know much about what we were doing but off the back of that, we got a load more work just from talking to them.
Spraggon added: "As word gets out, more enquiries trickle in, then we need more resources because every time we get people in, we get more work."