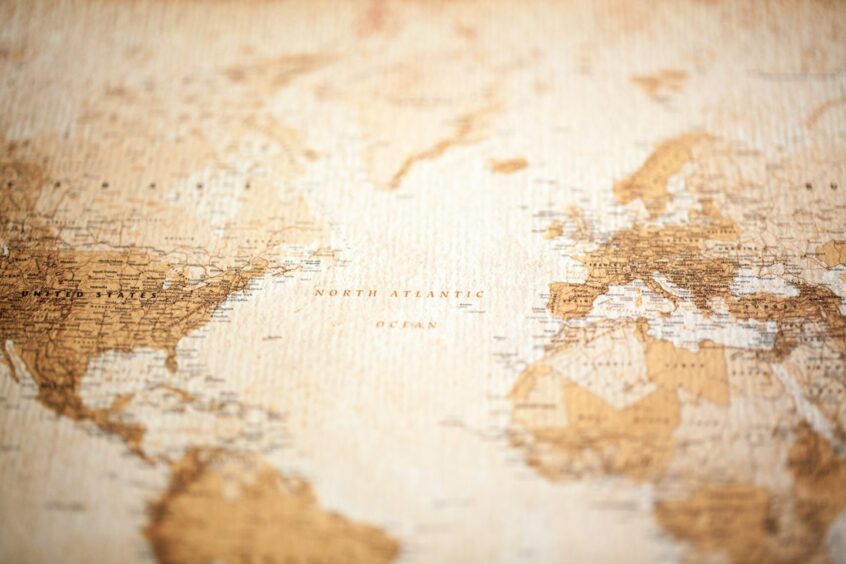 The Atlantic Ocean Basin covers roughly 20% of Earth's surface. With neighbouring seas like the North Sea and Caribbean, it covers about 106.4million square km (41.1million sq. miles) and hosts the most diverse array of offshore oil and gas provinces anywhere.
Examples of key energy provinces include the North West Europe Continental Shelf (NWECS), US Gulf of Mexico, Eastern Canada (Newfoundland and Labrador) plus offshore Brazil and its alter-ego West Africa. All are well established.
However, there are fewer than a handful of clearly promising new plays, notably offshore the South American states Guyana and Suriname.
Beyond that there have been a significant number of wannabe players but which have either failed outright or have shown only limited hydrocarbons potential.
Regardless of stature and given the deepening global climate change crisis, the writing is on the wall for all the foregoing and the first casualties are clear to see.
In this article we take a look at seven locations at the bottom end of the league table: Falkland Islands, Faroe, Greenland, Iceland, Ireland and Nova Scotia. In a nutshell the status of each is as follows:
· Wannabe – Falklands
· Wannabe but losing hope – Faroe
· Given up and cancelled the offshore effort – Greenland
· Likely to cancel imminently – Iceland
· Limited production but made decision to put an end to further exploration – Ireland
· Had limited production; output now ceased; but promoting deepwater licences – Nova Scotia
Plus we check out NWECS player Denmark which has been a considerable success story but which is winding down for environmental reasons.
NOVA SCOTIA
Nova Scotia showed great initial promise and had five offshore developments operating at peak between 1999 and 2018.
The Sable Offshore Energy Project located 225km offshore was the most complex and is now fully decommissioned. It produced 2.1trillion cubic feet in total.
Another gas project located about 250km southeast of Halifax, Deep Panuke, has been officially abandoned; also Cohasset-Panuke, which produced oil 1992 through 1999.
Recently, BP and Shell relinquished deepwater licences awarded in 2012 by the Canada-Nova Scotia Offshore Petroleum Board (now Energy Board – C-NSOEB).
BP bagged four blocks located some 300km offshore, committing more than $1billion to its hunt. Shell also secured considerable acreage, committing $970million.
Shell abandoned its first two exploration wells and quietly handing back its deepwater acreage in December 2017.
In 2019 BP relinquished half its allocation following disappointing results. Remaining acreage was let go in January 2022. Equinor, which also had acreage, dropped its licences too.
Adding to the doom and gloom surrounding Nova Scotia's E&P scene, an offshore licensing round closed late 2021 without attracting any bidders.
The Council of Canadians pressure group dedicated to a just transition across Canada described the BP and Equinor decisions as the "final fizzle of a waning industry" in January 2022.
But it spoke too soon as September last year saw the energy board throw the dice again, offering eight offshore parcels and selling the notion that over 120TCF of gas reserves exist offshore NS and more than that onshore. A century's worth.
Parcels 1 to 5 are located on the Scotian Slope in water depths ranging 100-4,300m. Parcels 6 to 8 are offshore Sable Island in less than 200m of water.
September 18 is the closing date for bids.
However, the noose is relentlessly tightening on the use of fossil fuels, the latest warning was issued last month by the Intergovernmental Panel on Climate Change (IPCC) and is certain to influence the outcome of this attempted licensing round.
It's a long way from the first exploration well drilled offshore Nova Scotia in 1967 by Mobil Oil and from the current situation in neighbouring Newfoundland & Labrador where the industry is prospering.
FALKLAND ISLANDS
Scientific drilling in the 1970s revealed the possible promise of oil and gas offshore this South Atlantic archipelago. Declassified UK government documents show that British ministers were keen to exploit oil around the islands before and after the attempted annexation of the possession by Argentina in 1992.
UK took control of territorial waters out to 200 nautical miles in November 1991 and preparing an oil and gas hunt.
In 1996 – seven licences were awarded to 14 companies in the North Falkland Basin, covering 48 blocks and leading to six exploration wells being drilled in 1998 of which five encountered oil shows.
Two partially overlapping and continuous drilling campaigns were mounted around the Falklands February 2010 to January 2013. Sixteen wells (plus two side-tracks to core) were drilled in the North Falkland Basin plus one in the Falkland Plateau Basin; and a further four wells were drilled in the Southern Basins – two in the Falkland Plateau Basin and two in the South Falkland Basin.
Various discoveries were made of which so far only the Sea Lion oilfield and satellites have so far been the focus of intended development.
Sea Lion was discovered in 2010 by Rockhopper, but the project development start-up has been delayed several times. In 2014, Premier Oil (now part of Harbour) and Rockhopper targeted first oil for 2019, but that didn't happen.
In April 2022, Israeli company Navitas farmed in for 50% plus the operatorship and, last month, visited the Falklands to meet with the government (Legislative Assembly) to discuss development options.
Despite the winds of change buffeting oil and gas worldwide, the Assembly still has hydrocarbons written into the Islands Plan, the latest of which covers 2022-26.
Whether Sea Lion or any other development get off the drawing board looks increasingly fragile by the day and there is now "distaste" within the Assembly for this to happen; possibly within the wider community too.
DENMARK, GREENLAND & IRELAND
In Denmark, Greenland and Ireland clear decisions to kill oil and gas have been made for environmental reasons.
Denmark has been an oil and gas success story but is now deeply committed to decarbonising. The cease production decision was made in 2020 with all output expected to cease by 2050.
Greenland decided to halt its hunt mid-2021, saying no further licences would be issued. This was despite a study by the Geological Survey of Denmark & Greenland pointing to 18billion barrels of de-risked oil offshore the west coast, plus large deposits to the east.
The Greenlandic government said the price of getting after the reserves would be too high risk, as was the potential cost to the environment.
In essence, A 50-year fruitless hunt that included offshore drilling was halted by a government that got into power on an anti-oil ticket and did what it said it would do.
In Ireland there has been a modest level of drilling, some luck and there is gas production from just one field, namely Corrib off the west coast. The famous Kinsale gas field discovered in 1971, Ireland's signature first development, has run its course and was decommissioned in 2020.
In 2021, Dublin developed legislation to ban future oil and gas prospecting, but said it would honour existing licences. The ban was voted in during June last year (2022). Ireland became officially green.
FAROE & ICELAND
Meanwhile, out in the North Atlantic the trajectory is now crystallising in the Faroes where, without actually shutting down the oil and gas hunt, the government voted into power last December appears to be accepting that the future lies in sustainable energy.
There will be no further licensing rounds but it was recently made clear that the door is still open for oilcos to make out of round bids. Moreover, many current Faroese politicians are still oil friendly despite poor results since the hunt was initiated in the 1990s, with no slam-dunk absolutely clear commercial discoveries to show for the effort.
A new Ministry of Environment and Energy has been created to signal the way forward henceforth.
Finally, in Iceland, efforts are being made to kill off the oil and gas dream before it too has properly started.
Two areas on the Icelandic Continental Shelf are thought to have potential for commercial accumulations of oil and gas. They are Dreki east and northeast of Iceland and Gammur on the northern insular shelf of Iceland.
Three licences were issued including to Chinese company CNOOC and Petoro of Norway though they gave up their licences (awarded in 2012) five years ago claiming the hunt was too expensive and risky. That left only local company Eykon still in the game.
Opposition to prospecting has been building for a decade at least and last September, Iceland's minister of the environment, Gudlaugur Thór Thórdarson, began ramping up pressure to get the oil and gas hunt terminated. It seems likely he will succeed this year.