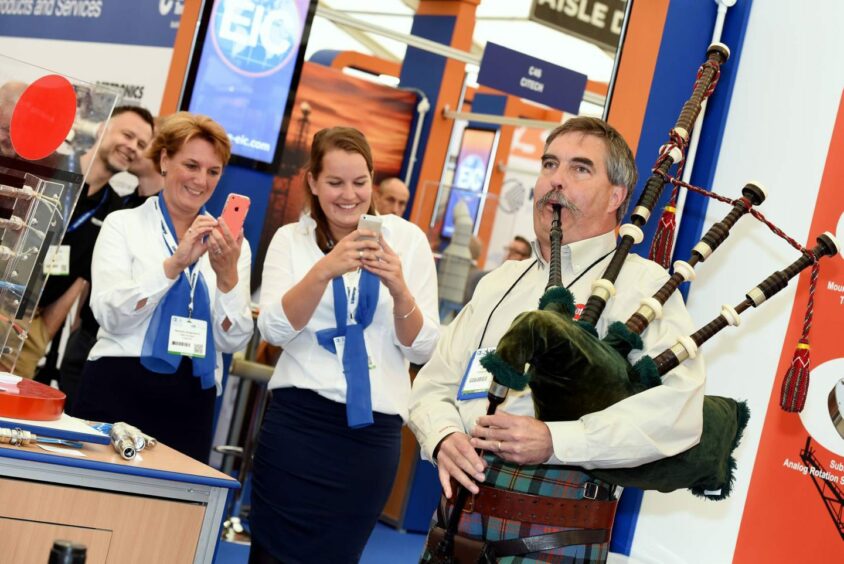 How anyone can predict 10 years ahead let alone 50 is a tough call, and that has certainly turned out to be the case since 2013's Offshore Europe.
Themed on "The Next 50 Years", it took place with the North Sea benchmark Brent blend sizzling fine style at around $110.
Reflecting on the mood in 2013, Reed Exhibitions' Jonathan Heastie told  the writer: "This was perhaps the peak OE for all those who had enjoyed preceding 10 years of remarkable growth."
"Operators – and the tens of thousands of people in the north-east who worked in the sector  had reaped the rewards of high oil prices, and were preparing for the arrival of new projects, such as Clair phase two and Mariner.
"It did seem that the North Sea had never had it so good," said Heastie who today is Portfolio Director, Energy & Marine at Reed.
"There were those in the North Sea community who dared to talk of another 25 years, if only by dint of BP's dogged pursuit of the huge West of Shetland resource that is Clair, and Statoil's bravery in committing to the Mariner heavy oil project at that time."
However, there was also an air of uncertainty in 2013 that simply never went away and why, locally, leadership minds were keen to know what the forthcoming  Wood Review might bring.
Heavily trailed via an interim paper the prior November, It was supposed to set out the route map for "Maximising Economic Recover" from the UK Continental Shelf and was published February 2014.
The Review made four main recommendations:
· Government and Industry should develop and commit to a new strategy for Maximising Economic Recovery from the UKCS (MER UK);
· Stewardship of the UKCS should move to a new better resourced arm's length body, funded by Industry;
· The body should be provided with additional powers to implement MER UK; and
· The new body should work with Industry to develop and implement new sector strategies, such as on exploration and decommissioning cost reduction.
Thus was born a sense of cohesion, the glue of which would be a regulator to be known as the Oil & Gas Authority.
This surely had to be better than putting up with the hitherto shambolic oversight of the greatest UK industrial success story since World War 2, especially by Treasury, which only ever saw it as a milch cow.
However, as promised on December 4 2014, the Treasury actually make a set of concessions to the industry in the UK's 2015 Budget.
Core was cutting taxes, albeit the reduction was probably less than what was needed for a province by then in terminal decline.
Another key measure introduced was a UKCS-wide allowance to replace the complex set of 'sticking plaster' concessions made in the wake of the disastrous tax raid of April 2011.
Of course, hastening things along at the Treasury and focusing politicians' minds was the third global oil price crash that hit in June 2014.
Two catalysts to this were a sharp slowdown in global economic activity and a glut of oil. The impact on the North Sea was dramatic.
Oil & Gas UK painted a bleak picture of the province's Sea's prospects in its 2014 review after discovering that the sector as a whole lost £5.3billion that year; the worst figure since the 1970s.
Its report said the cost of producing a barrel of oil had risen to a record high of £18.50, on top of investment, tax and decommissioning costs.
Falling oil prices, which slumped to below $50 a barrel early year, cut 2014 revenues to just over £24billion, the lowest since 1998.
The mood at the 2015 Offshore Europe was gloomy. Little wonder given that OGUK had warned that investment in the UK sector could drop as much as 80% by 2017.
Moreover, capital investment across the industry of £14.8billion ($22.8billion) in 2014 would probably decline by £2-4billion annually to 2017.
Heastie said: "Very few saw it coming and even fewer predicted such a steep fall. The effect on confidence was significant and would test the sector's reputation for rebounding from adversity.
"And, as OE 2015 came around, it was set against a slowdown that continued into 2016. By then, decommissioning was beginning to focus minds and we were also hearing more about the need to transition from the world's reliance on fossil fuels.
"I was not directly involved in OE at that time, but what I can say is that events like this reflect the market they serve.  When the oil price is up, the industry is buoyantly active and invests in marketing, and shows like OE,  augment that positivity and momentum.  The converse understandably happens when prices drop.
"Ironically, I'd argue that when the going gets tough, the tough get going, and participating at industry-leading events like OE actually provides the best platform to help businesses navigate the difficult landscape they find themselves in."
2016 got off to a bad start with BP cutting one in five upstream jobs as the oil price threatened to fall below $30 a barrel; 600 in the North Sea and a further 3,400 worldwide.
In September, OGUK said the industry had risen to the challenges, cutting the cost of extracting oil and gas by almost half since 2014 and at the same time raising production 10%.
However, the supply chain has suffered an average 30% fall in revenues since 2014, with around 120,000 likely job losses over the two years to Q3 2016.
Chief executive Deirdre Michie warned: "The UKCS is in urgent need of fresh investment to boost exploration and drive activity, particularly for the supply chain.
"Exploration  has fallen to record lows and little new investment has been approved in 2016 and 2017 looks no better."
In fact, a recovery of sorts did start in 2017 but rapidly ran out of steam.
The team at OE plugged on and, for them, OE 2017 had its own poignancy, as it was the last to be held at the AECC.
Heastie: "No-one would miss the traffic jams, but the AECC had served us very well. It was exciting to see the plans released for the new centre (The Teca) already being built near the airport."
As for the theme – Embracing New Realities, Catherine MacGregor, SPE Offshore Europe 2017 chair, called on the industry to reinvent itself and debate its future direction.
Ben van Beurden (CEO of Royal Dutch Shell) and Bob Dudley (group chief executive of BP), attended the plenary on day one, reflecting the importance of OE as they laid out their plans for the UKCS, encouraging the industry to be positive and fight for recovery.
That recovery such as it was, quickly faltered after the Brent spot price passed $81 in October 2018 before sliding back to around $57 by the end of the year and then tottering in the upper $50 to $60 range throughout 2019.
Meanwhile, Offshore Europe relocated.
"OE 2019 was our first at TECA, which lived up to its billing as a genuinely world-class venue," said Heastie, who has been with Reed for 15 years.
"More than 36,000 oil and gas professionals from over 130 countries and all parts of offshore exploration and production converged on Aberdeen."
And then Covid struck.
"2020 was a hammer blow as the pandemic broke out. Covid-19 impacted all of us so dramatically.  For organisers like Reed, especially those with events of scale, weren't allowed to convene at all," said Heastie.
"In early 2020, as we looked ahead to OE 2021, we'd expected that the pandemic would have been behind us, but it was not to be.
"We had to stop until restrictions eventually eased. However, as they say, the show must go on, and we worked hard to deliver a virtual conference, centred around the theme of the industry "Working Together for a Net Zero Future".
"It landed quite well and we learned a lot on how virtual conferences can work, but I'm sure most people would agree with me when I say that nothing compares to the value and experience of being at a physical event, in a live, vibrant environment, bursting with energy, opportunity and actual people!""Thankfully, that traumatic pandemic period is largely behind us now, and things are shaping up superbly well for a fabulous 50th anniversary Offshore Europe – OE2023.
"The Big 5-0  will be a celebration of a half-century of innovation in oil and gas. It's also a time of challenge and massive change.
"The Great Energy Transition will quite literally require the talents of everyone in this industry to join with others to accomplish change on a staggering scale."
Offshore Europe is clearly back with a bang!
Recommended for you

'We need more projects like Rosebank': Industry reacts to oil field approval