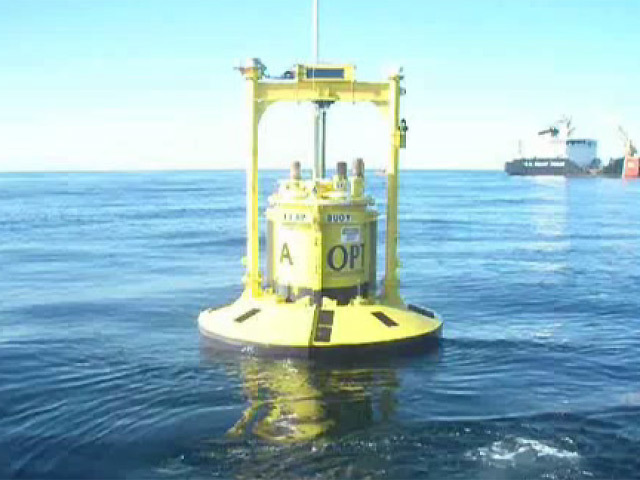 Innovative wave power technology being pioneered by the US Navy in the fight against drugs has the potential to remove the need for diesel-powered generators in the North Sea.
US firm Ocean Power Technology claims its wave power buoys could transform offshore power generation with the potential to energise subsea pumps and compressors and unmanned offshore installations.
OPT says this will greatly reduce the costs of offshore operations, and help energy companies in their drive to extract as much oil as possible from existing North Sea fields.
"There has been a lot of talk about the North Sea and extracting more out of fields that are already there," said the firm's business development director Paul Watson at the Subsea Expo event in Aberdeen.
"The only way we can really do that is to drive the cost out of that extraction. Our technology is just one possible way of doing that."
He said there was also potential for the technology to be used in hostile regions, such as the West of Africa, as a means of patrolling oil and gas installations.
The technology is currently being used by the US navy to track ships entering and leaving the waters off New Jersey.
The 150kW buoys produce electricity from waves to power a string of radar and sonar sensors running along the coast.
OFT is currently developing a 0.5MW buoy and hopes to have developed a 2MW model within the next ten years.
Trials are also ongoing offshore Spain to see whether or not a string of buoys with sensors can be used to provide the main buoy with more information on approaching waves.
"That has been very successful in the tank test and doubled the power in the same unit," said Mr Weston.
The firm is now looking for partners in the north-east to develop the technology for use in the oil and gas sector.
"To get people to believe in the technology, they have to see it working for a number of years," said Mr Weston.
"We are looking for partners to do that. It's very difficult because a lot of operators have very small R&D budgets. We are still progressing and I firmly believe we will get that break."
Recommended for you

Proserv acquires stake in power system monitoring firm Synaptec