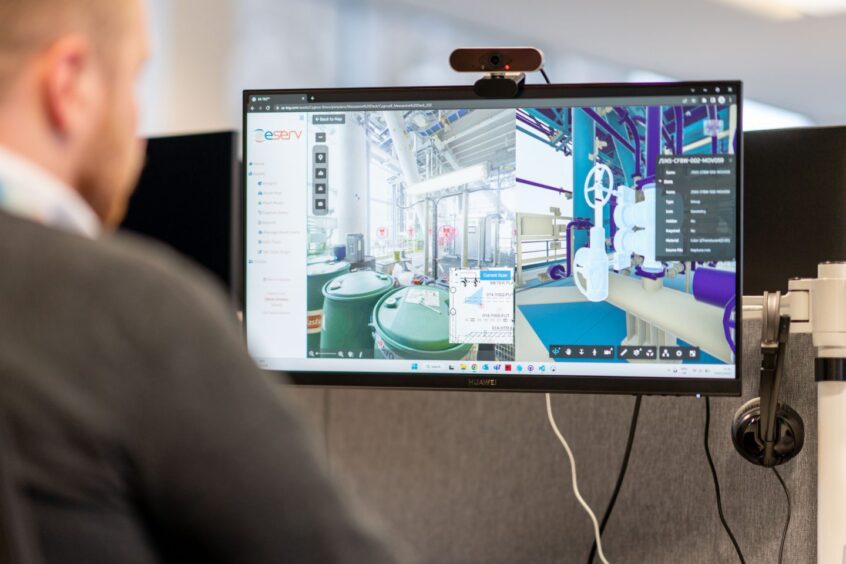 As oil and gas fields mature, optimising decommissioning projects through new processes and technology, has become a key industry focus.
Decommissioning is a complex and expensive task and due to the cost-restrictive nature of the projects and cannot be undertaken in the same way as a development project. eserv's AS-TEG™ decommissioning module is emerging as a game changing tool to navigate these challenges efficiently.
Simon Patterson, Business Development Director at eserv, the leading digital twin provider, explains: "AS-TEG™ is a virtual replica of a physical asset. It is not a static 3D model; it is a dynamic representation that integrates 2D drawings and 3D spatial data at unmatched speeds and simplicity. By harnessing the power of AS-TEG™, the oil and gas industry has found innovative ways to optimise operations, reduce costs, and enhance safety across the entire lifecycle of offshore assets."
"AS-TEG™ decommissioning module has not only been configured specifically for decommissioning projects but also for the specific workflows preferred by our clients. AS-TEG ™ is fully customisable and engineered with unique features specifically optimised for decommissioning operations. With AS-TEG ™, you are not just adopting digital twin technology; you are investing in a specialised tool designed for the unique challenges of decommissioning."
The deployment of AS-TEG™ for decommissioning oil and gas platforms leverages the vast reservoir of experience and information accumulated during the operational life of these assets. It also helps transfer knowledge from experienced personnel to the next generation, ensuring that valuable insights and expertise are not lost. Here's how AS-TEG™ is making a difference:
1. Empowering Informed Decisions: AS-TEG™ collects and integrates data from various sources, including third-party software, to create highly detailed and accurate 3D layers of intelligence of as-built offshore platforms. These models serve as a virtual representation of the physical asset, allowing engineers and decision-makers to make more accurate and cost-effective decisions throughout the decommissioning process.
2. Reduced Downtime and Cost Control: AS-TEG™ significantly reduces engineering downtime by facilitating remote monitoring and control, improving project cost control, and ensuring that decommissioning projects stay on schedule.
3. Safety Enhancement: Safety is paramount in decommissioning, and AS-TEG™ reduces the need for in-person site surveys, minimising the risks associated with on-site inspections and improving overall safety.
4. Walk the lines: AS-TEG™ streamlines and simplifies engineering workflows through customisable 3D tagging and dashboard systems. Engineers can easily identify and annotate high and low points and collaborate instantly with colleagues, making the planning and execution of decommissioning projects more efficient.
Patterson emphasises the transformative potential of AS-TEG™ in decommissioning, saying, "AS-TEG™ is key to unlocking the future of decommissioning in the oil and gas industry. Traditionally, ensuring that no hydrocarbons leak into the environment during pipework removal required extensive on-site line walks, manual diagram marking, and lengthy testing procedures, often spanning six months.
AS-TEG™ goes beyond conventional solutions with its revolutionary Engineer Down Clean (EDC) tool users can remotely perform system "line walks" before cutting and removal, significantly expediting the process. Pre-populated system data simplifies the tagging of critical high and low points, with actions documented for subsequent construction activities. A user-friendly traffic light system efficiently manages these actions. This innovation has substantially reduced the on-site personnel requirement and established clear reference points for collaborative action management."
"For example, a major North Sea operator approached us to consolidate disparate data sources and implement a workflow for their decommissioning activities on two offshore oil rigs. Their goal was to understand the location of pipework high and low points and potential areas for trapped fumes while also developing a cost-efficient solution to streamline decommissioning engineering activities.
Our AS-TEG™ platform consolidated and contextualised the historical data from multiple vendors, providing a comprehensive digital twin of both assets, helping the client and third-party vendors to remotely identify high and low points, plus determine where drains and vents were required. Removing the requirement for in-person site visits resulted in significant savings in survey costs alone and streamlined several of our client's workflows. AS-TEG™ also provided advanced 3D visualisation capabilities to help users make factual-based decisions, not assumption-based decisions."
Dan Millard, CEO of eserv summarises, "AS-TEG™ has enabled a capability that is revolutionising the execution of decommissioning projects, harnessing the wealth of experience and information gained throughout the assets' operational lifecycles, and unlocking new levels of efficiency to enable cost-effective, safe, and environmentally responsible decommissioning. As the industry continues to adapt and innovate, AS-TEG™ will play an increasingly vital role in shaping the future of decommissioning processes, ultimately contributing to a more sustainable energy sector."
Recommended for you

Strengthening the future of clean energy with TRAC Renewables