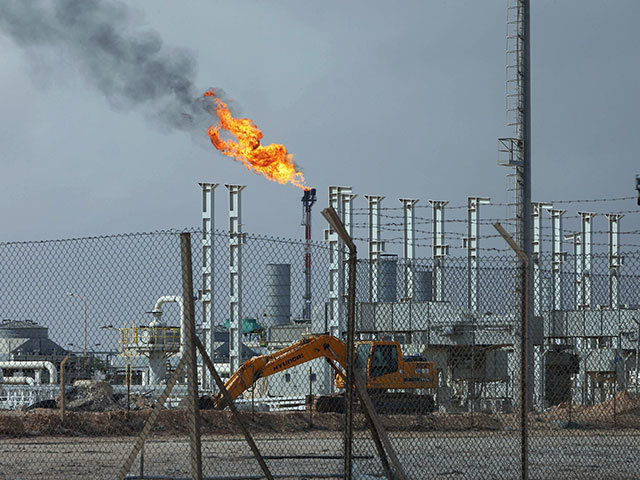 A Libyan military police chief said he disbanded parliament after a militia group he backs stormed it yesterday, spreading violence in the energy-rich nation to its capital and sending world oil prices higher.
In a televised speech late yesterday preceded by clashes, Mukhtar Fernana said parliament will be replaced by a 60-member group. Nuri Abu Sahmain, the head of the General National Congress, denied that it had been suspended and said yesterday he was running it from a "safe place," the state-run Libyan News Agency reported.
Fernana said he won't allow Libya to become a safe-haven for extremists or a "home for terrorists." The assault, he said, was not a coup and reflects the "freedom that Libyans wanted and fought for."
Brent for July settlement increased as much as 49 cents to $110.24 a barrel on the London-based ICE Europe Futures exchange and was at $110.14 at 3:55 p.m. Seoul time. The volume of all futures traded was about 15 percent above the 100-day average. Prices advanced 1.7 percent last week, snapping a two-week losing streak.
The troops who attacked the legislature are loyal to General Khalifa Haftar, who the government accused of attempting a coup last week in the restive eastern city of Benghazi, the country's second largest. Two people were killed and 66 wounded in Tripoli in yesterday's clashes, according to Al Jazeera.
"Tripoli is unable to solidify its control, not only in the east, but also within Tripoli itself, as opposing forces on multiple levels scramble for power and prestige," Theodore Karasik, director of research at the Institute for Near East and Gulf Military Analysis in Dubai, said by telephone. "This is Iraq in the making."
The violence spotlighted the chaos that has become Libya, a nation whose central government has been unable to bring under control the various militias who played a key role in Muammar Qadhafi's ouster and death three years ago. The government relies on some of the groups to stabilize the country, with many of the forces operating in tandem with the police and military.
At the same time, the government is grappling with conflicting demands by the militias, some of which are jostling for greater control of the country's oil wealth in a fight that has hit the production and export of crude oil. Crude production in the country, the holder of Africa's largest oil reserves, declined to 215,000 barrels a day last month, or 13 percent of installed capacity, data compiled by Bloomberg show.
Libya's government is already struggling to contain violence in Benghazi. At least 70 people have been killed and 141 injured since fighting there broke out on May 16, according to the Health Ministry. Officials say Haftar, a retired army general whose militia troops are battling Islamic militants, planned a coup. The government has threatened to punish any units that join him.
Libya's government doesn't see links between the violence in Tripoli yesterday and the fighting in Benghazi, it said in a statement on its website.
Haftar defected from Qaddafi's army in the 1980s, finding refuge in the U.S. He was one of the commanders of the rebellion that broke out in February 2011 in Benghazi and ended Qaddafi's 42-year rule. He declared his intention to "rescue" the country in February. The government dismissed his claim at the time, saying Haftar had no authority.
Fernana, in a statement he said was read on behalf of the leadership of the Libyan National Army, the same group which Haftar heads, said the new body would work until new elections are held. He described the interim government as working in an emergency capacity and prepared to act with the national army, police and security forces in a fight against "terrorism."
The tensions come just weeks after a new interim prime minister supported by Islamists was chosen by parliament in a vote that some lawmakers derided as illegitimate.
Recommended for you

An oil rebound in Libya rests on shaky political foundations