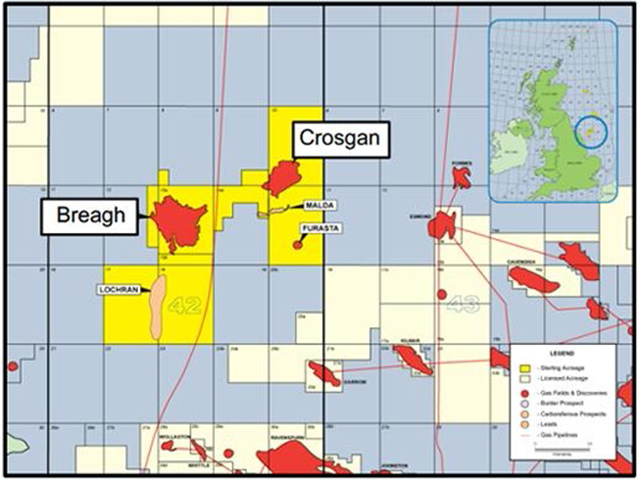 Sterling Resources said at the weekend it had raised £19million in a private placement of shares to support activities including work on the problem-plagued Breagh gas field.
The shares were sold to Waterford Finance and Investment, Meridian Capital International Fund, YF Finance and "other placees".
Announcing the fund-raising, Calgary-based Sterling said: "The proceeds of the placement are intended to be used towards costs arising in the second half of 2014, including Breagh development capital expenditures (principally the drilling of development well A08), the UK Crosgan appraisal well, interest and amortisation payments, further gas price hedging and other corporate costs.
"With this funding, the company expects to be fully financed until late in 2014."
It added: "Several existing large shareholders have indicated a strong desire to support the company with additional funding if required.
"The company will continue to explore further funding options, including the debt capital markets, which would minimise further dilution of net asset value to shareholders."
Sterling's efforts to get Breagh up and running late last year were hit by a string of technical problems.
The company launched a series of refinancing deals after the delays and substantial cost overruns for the southern North Sea project.
Breagh also suffered a shut-down for repair work just a month after start-up – what was expected to be a two-week maintenance programme eventually extended to seven.
Sterling parted company with chief executive Mike Azancot amid all the hitches last year – it is still not known if he quit or was pushed.
Earlier this year, the company named chairman Jacob Ulrich – a former managing director at Centrica Energy- as its permanent new CEO after his spell in he role on a temporary basis.
Sterling, which has offices at Westhill, near Aberdeen, has assets in the UK and Romania.
It has a 30% stake in Breagh, with operator RWE Dea owning the remaining 70%.
The field was discovered by Mobil in 1997.