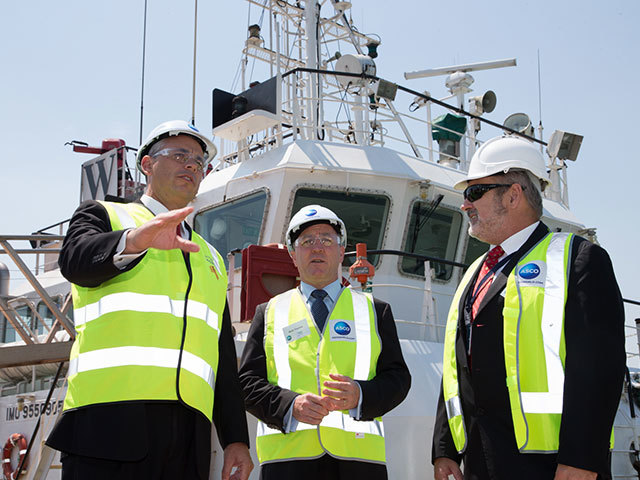 Offshore logistics company ASCO has opened a new supply base in Northern Australia as it aims to capitalise on the oil and gas sector's growth in the region.
The $110m purpose-built Marine Supply Base in Darwin was funded by the Northern Territory government to support Northern Australia's growth as an international hub for the oil and gas industry.
The base comprises of three working berths with no tidal restrictions; a heavy-lift berth capable of operating with a 600 tonne crane, office space and accommodation facilities and a drilling mud plant, among other features.
The facilities were constructed by ASCO and the company holds a 20 year contract with the Territory Government to manage the new base operations.
"Australia is an important building block for us as we build our global operations through our four key regions – Europe, Americas, Middle East and Africa and Australasia," said Derek Smith, ASCO Group chief executive.
"In Australia, ASCO can now support its customers through the entire supply chain cycle, and we are well placed to service the future expansion of this industry over the coming years".
ASCO entered the Australian market in 2010 with the purchase of Darwin company Shorebase, before acquiring Brisbane-based inventory and asset management specialists Oniqua in 2012.
In May this year the firm took a majority stake in Bonnie Rock Transport – one of Australia's leading providers of remote area transport and logistics to the oil and gas industry.
The country's 14 liquefied natural gas (LNG), gas and oil projects at the committed stage have a combined value of $197billion while publicly announced petroleum projects have a combined CAPEX of $28billion-$30billion, according to the Australian Bureau of Resources and Energy Economics (BREE).
"This is a tremendously exciting time for us," said Matt Thomas, ASCO Australia chief executive.
"Already a number of international oil and gas companies including ConocoPhillips, Eni, INPEX and Shell will be supporting their operations from Darwin and the supply base will be a critical link in their supply chain operations."
Recommended for you

East Timor's NOC calls Woodside 'corporate bully' in latest Sunrise LNG spat