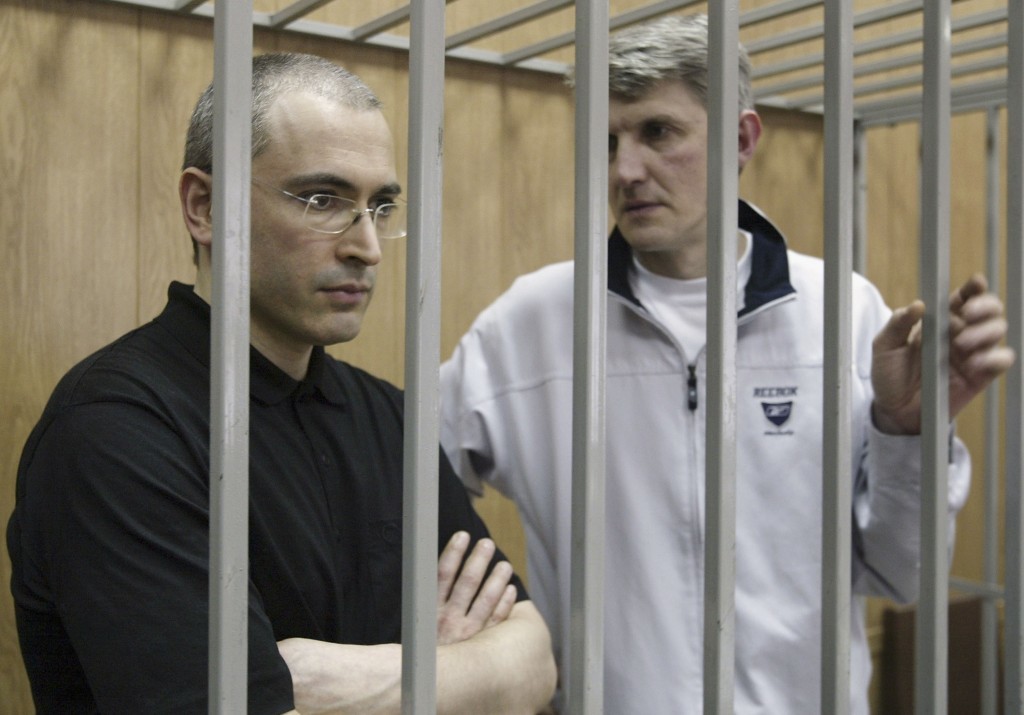 For Bruce Misamore, $2.5billion just isn't enough. Not after waiting a decade for justice. Not after his former boss was wrongly imprisoned in Siberia and 50,000 of his company's former shareholders have yet to be made whole.
Since avoiding arrest in Russia in 2004, Misamore has spent much his "retirement" fighting on behalf of the shareholders of Yukos, the oil company whose assets were seized by the Russian government to satisfy a tax judgment against its former chairman, the oligarch Mikhail Khodorkovsky. Khodorkovsky was arrested in 2003 and went to prison for more than a decade. He was released in December.
A few weeks ago, the European Court of Human Rights ruled that Russia should pay $2.5billion for retroactive tax assessments and disproportionate penalties that the government imposed on Yukos, forcing it into bankruptcy. Misamore and other former Yukos executives had argued that the government's actions amounted to an expropriation, which would have incurred damages of as much as $51billion. While it found the tax assessments violated due process, the court stopped short of saying the tax penalties were responsible for Yukos' demise.
"It really didn't compensate the shareholders at all for their economic loss," Misamore says.
Misamore recognises the irony of complaining about winning the biggest judgment in the history of the ECHR. "It's disappointing, but record setting," he says. "You've achieved something that no one else in the world has achieved, but it wasn't the right verdict."
Nevertheless, Misamore says the decision sends a strong message to Russia's leadership and its biggest energy company, Rosneft, which took possession of Yukos' assets after the seizure. That message is amplified by a separate $50billion arbitration award days earlier from a tribunal in The Hague, which found Russia bankrupted Yukos and plundered its assets. Combined, the two rulings may help bring closure to a case that has highlighted the perils of doing business in Vladimir Putin's Russia.
"Politically, it makes Putin look like a fool, and it makes [Rosneft chief executive] Igor Sechin look like a fool, and it also confirms that they're thieves," Misamore says.
Misamore, a former Pennzoil executive, has a unique perspective on the Yukos saga. He was the American executive hired by Khodorkovsky to be the company's chief financial officer. Khodorkovsky wanted to turn the company into Russia's first international oil company, and to that, he wanted to win the confidence of global investors by adopting Western accounting standards.
Misamore, who lives in the Houston area, joined Yukos in 2000 and moved to Moscow. In 2004, about a year after Khodorkovsky was arrested, Misamore was traveling in London when he got a call from a colleague telling him that Yukos' headquarters were being raided by government agents. If he returned to Russia, he was told, he would be arrested.
Instead, he flew home to Houston. In a desperate attempt to stop the Yukos seizure, he filed an involuntary bankruptcy petition in Houston, hoping that the bankruptcy stay would prevent any further action by the Russian government. Misamore knew his claim was tenuous. After all, Yukos' only asset in America was his company laptop that he'd been carrying with him on his trip.
The tactic didn't work for long – the judge threw the case out in less than a week. The laptop was later stolen from his home in the Houston suburbs while he and his wife were at dinner. Little else was taken. When the police asked Misamore if he had any suspects, he told them "the KGB."
In the years since, Misamore has teamed with other former Yukos executives in hopes of recovering assets for the company's shareholders. The ECHR ruling was the culmination of those efforts.
"It is moving forward, finally, and there is a judgment," Misamore says. The fight, he adds, is far from over. For one thing, he intends to make sure Russia follows through with the payments it's been ordered to make, and he said he intends to continue pressing claims against Rosneft that are pending in various jurisdictions in Europe.
"The fight definitely continues," he says. "We still have a lot of things to resolve."
Loren Steffy is a managing director with the communications firm 30 Point Strategies. He is a writer at large for Texas Monthly, a contributor to Forbes and the author of Drowning in Oil: BP and the Reckless Pursuit of Profit and The Man Who Thought Like a Ship. Follow him on Twitter: @lsteffy; on Facebook or at lorensteffy.com.