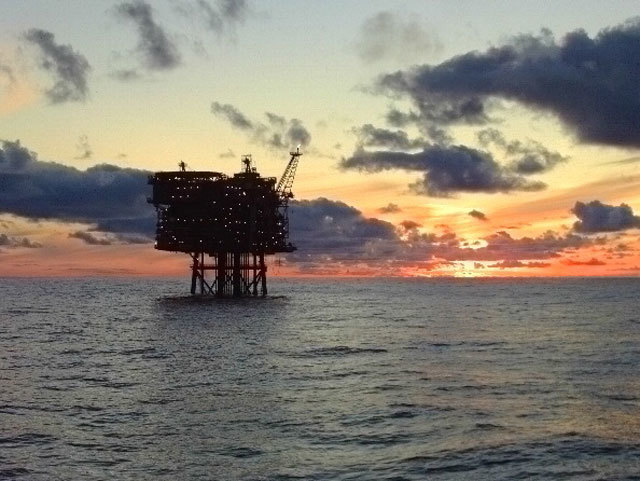 The Scottish Sun had a double-page spread entitled "£600bn – that's a fracking fortune". This is based on a report by a pressure group called N-56 which claims that 21-42 billion barrels of oil equivalent could be extracted from unconventional hydrocarbon deposits in the North sea using fracking technology. The claimed tax take is £3-600 billion. It is an attractive idea – enough for one Sun journalist to switch his vote from No to Yes. Sadly, it is largely nonsense.
The report focuses on a geological unit called the Kimmeridge Clay, which was deposited across a wide area of NW Europe about 155 million years ago. It takes its name from Kimmeridge Bay in Dorset, where it is well-exposed in low cliffs. It is the main source rock for hydrocarbons in the central and northern North Sea, and contains a lot of organic carbon – the remains of marine organisms and maybe a few dead dinosaurs. In conventional oil accumulations, oil is cooked out of the source rock as it is steadily buried and heated to temperatures above 80°C – about 3-4 km down in the North Sea. As oil and gas are expelled from a source rock they rise though pores in the rock by buoyancy, ending up in a reservoir rock at shallower depth where they can be exploited. All North Sea fields are of this conventional type.
However, not all hydrocarbons are expelled; some end up trapped within the source rocks as tiny bubbles of gas or oil. The shale gas revolution in the US has relied on horizontal drilling to access large volumes of such source rocks and fracturing ("fracking") to create permeability and allow the gas to flow into the well bore. It is a powerful technique which has revolutionised the US economy. But, it is onshore, where wells typically cost about $2-5 million to drill, and drilling depths are of the order of 1,200-3,000 metres. In contrast, a North Sea well costs $20-50 million to drill and the depths at which the Kimmeridge Clay is mature (contains hydrocarbons) is from 3,000-5,000 metres. If you add in the extra costs of a long-reach horizontal well, the price could go even higher. So, the costs would be at least ten times more than in the US, where the glut of gas is depressing prices and making a lot of fracking operations economically marginal.
There is an even bigger geological problem. In the US, many of the unconventional targets have not expelled hydrocarbons, so they are still in the rock, waiting to be released. In the North Sea, the core area identified in the N-56 report has already expelled more than 50 BILLION barrels of oil and gas, so much of the resource is no longer there.
So why is the technical case so weak? The main reason is that there is no direct geological input. The N-56 report relies heavily on work by a small US company called Roxanna Associates, reported through the lens of Kimmeridge Energy 'a boutique energy investment firm with headquarters on Madison Avenue New York'. The report was prepared for N-56 'by Tulloch Energy with input from BiGGAR Economics (on economic and financial impacts)', so who are these companies? BiGGAR Economics lists nine project areas that they have conducted in the energy sector on their website; the vast majority of these are on onshore windfarms or energy policy. Their only petroleum sector project appears to be on the economic impact of oil and gas R&D. Tulloch Energy is a 17 month-old private limited company registered at a private address in Aberdeen. Its only two company appointments are an engineer and a dietician – no geologists, yet this is a geological problem, and a very shaky foundation for an economy.
David Macdonald is a professor of Petroleum Geology at the University of Aberdeen.

Recommended for you

Whopping 76% of Scots want North Sea production despite energy plan