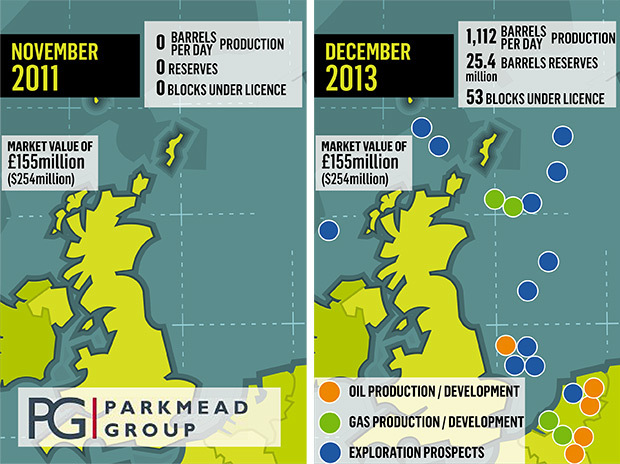 The UK and Netherlands focused Parkmead Group has doubled its profits since last year.
The company announced its preliminary results for the year ending June 2014 and said its profits had risen from £1.6million to £3.2million.
Its revenue also increased from £4.1million to £24.7million since last year.
Parkmead was awarded five additional oil and gas blocks in the UK 27th Licensing Round, giving them a total of 30 new blocks across the North Sea, west of Scotland and west of Shetland.
It also made two new gas discoveries at Pharos in the UK Southern Gas Basin and Diever West onshore the Netherlands.
The new licence awards take the company's total number of oil and gas blocks across the UK and the Netherlands to 61, with 48 of these being operated by the group.
Parkmead's executive chairman, Tom Cross, said:"I am pleased to report another excellent year of progress. Parkmead has significantly increased its production base, providing major growth in revenue and cash flow.
"The company has also recorded its first full year of profit, marking an important milestone.
"These key achievements have been delivered through two important acquisitions, one corporate and one asset, both of which secured increases to Parkmead's oil production.
"These new interests complement Parkmead's existing oil and gas portfolio.
"The company also delivered successful drilling results with two new gas discoveries in the UK and the Netherlands, providing valuable near-term development opportunities.
"Parkmead was delighted to be awarded six new licences through the recently announced UKCS 28th Licensing Round, spanning nine attractive offshore blocks.
"Parkmead now has a strong platform from which to become a key E&P player in the North Sea, and we look forward to updating shareholders as we continue to grow into 2015 and beyond."
Recommended for you

Vattenfall appoints public affairs boss as interim UK country manager