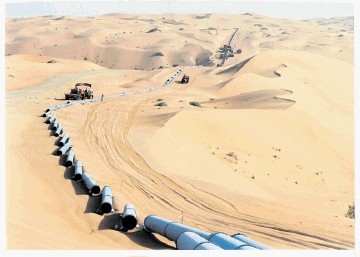 Enermech has signed a joint venture agreement with the Abdulla Fouad Group (AFG) to support its growing operations in Saudi Arabia.
The deal by the international mechanical services group comes after AFG's acquisition of the Shoabi Group's oil and gas agencies last month.
Enermech's operations in Saudi Arabia include providing crane, hydraulics, valves and pipelines services to the oil and gas industry.
AFG will facilitate EnerMech's Saudi Arabian operations and provide essential technical support and marketing services under the agreement.
Bob Lee, general manager of EnerMech's Saudi Arabian operations, said: "This important joint venture agreement will give us access to a customer base and excellent opportunities which will fast forward EnerMech's growth in Saudi Arabia and neighbouring countries.
"We have people and equipment in-country and are looking forward to growing our business in the region alongside our new partner."
EnerMech has a strong Middle East presence with operations based in Abu Dhabi, Qatar and Ras al Khaimah.
AFG chairman Sheikh Abdulla Fouad said: "This agreement further strengthens our footprint in the oil and gas sector and we are delighted to collaborate with EnerMech and jointly develop the business in Saudi Arabia.
"By leveraging our combined strengths and creating a common platform to pool our expertise, the venture is bound to be successful."