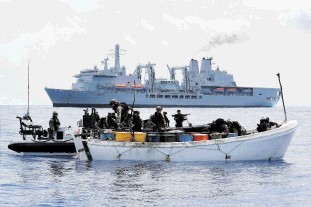 Pirates hijacked more oil tankers in Southeast Asia in 2014 even as attacks at sea declined globally to the lowest level in eight years, according to the International Maritime Bureau.
Fifteen ships carrying mainly marine-fuel cargoes were attacked in Malaysia, Indonesia, Thailand and the Malacca Strait, the IMB said in its annual piracy report today.
While that contributed to the global increase to 21 vessels from 12, the total number of "incidents" reported worldwide fell to 245, it said. That's a 44% drop from when piracy in Somali waters peaked in 2011.
"The global increase in hijackings is due to a rise in attacks against coastal tankers in Southeast Asia," said Pottengal Mukundan, the director of the IMB. "Gangs of armed thieves have attacked small tankers in the region for their cargoes, many looking specifically for marine diesel and gasoil to steal and then sell."
Southeast Asia includes the Malacca Strait, the shortest sea-trade route between the Middle East and China that's been described by the US government as among the world's "most important strategic choke points."
Pirates have become more violent and while all 11 attacks by Somali gangs last year were thwarted, a single successful hijacking of a merchant ship will "rekindle" their appetite, the IMB said.
The hijackings were often orchestrated so the pirates could siphon a tanker's cargo and transfer it to another vessel, the report showed.
In October, an estimated nine people armed with guns and knives attacked and successfully boarded the Thai-flagged MT Suratchanya, stealing the tanker's gasoil cargo, its cash and the crew's valuables, the IMB said.
In West Africa, 41 piracy incidents were lodged last year with probably several more cases unreported, according to the IMB. Of 18 attacks off Nigeria, 14 involved vessels related to the oil industry.
"Hijackings of product tankers appeared to subside in the last quarter of 2014, with the last reported case at the end of July 2014," it said.
Recommended for you

Nigeria ups anti-piracy work with Falcon Eye launch