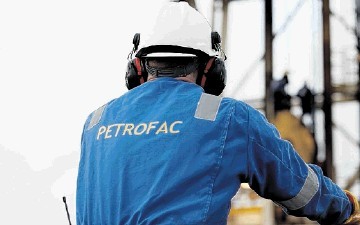 Petrofac Ltd. bucked weakness in the market for oilfield services as it added orders this year to a record backlog for 2014 with the national oil companies that make up its main customers still investing into the downturn in prices.
The company, based in London, also formed a five-year tie-up with McDermott International Inc. to pursue subsea projects.
Petrofac advanced 7% to 872 pence, the biggest gain since Oct. 17, by 11:07 a.m. even as it lowered an earnings goal for this year and net income fell 11% in 2014.
The company cut its forecast by $40 million to $460 million after a further drop in oil prices since its November estimate, it said Wednesday in an earnings statement. The order backlog rose to a record $18.9 billion in 2014 with intake this year at $3.5 billion. Profit for 2014 was also hit by delayed projects.
"Notwithstanding the current lower oil-price environment, we continue to see an attractive pipeline of bidding opportunities in the year ahead," Chief Executive Officer Ayman Asfari said in the statement. Most clients are national oil companies that spend even in a downcycle, he said separately.
The decline in net income in 2014 to $581 million from $650 million a year earlier still beat the $572 million average of 11 analyst estimates compiled. The company warned in November that weak oil would hurt earnings as projects slipped and some were canceled. Oil companies have announced spending and job cuts to protect dividends in the face of lower prices.
Petrofac suffered a loss of $180 million on the Laggan-Tormore project, while first oil from Greater Stella is being delayed by more than a year to mid-2016, Tim Weller, chief financial officer, said in a telephone interview.
It's exiting its Ticleni project in Romania.
The company has opportunities for bidding in onshore exploration and production worth $24 billion, Weller said.
The North Sea costs aren't sustainable and the U.K. needs to consider tax relief, especially for new investments, Asfari said in a Bloomberg TV interview. His company has had to cut contract rates by 20%, while freezing pay, he said.
"We'll see oil at $70 to $80 sooner than most people expect," he said. Petrofac is the U.K.'s largest oil-services provider by market value after Amec Foster Wheeler Plc.
Recommended for you

Oil majors report record first-half results across the board