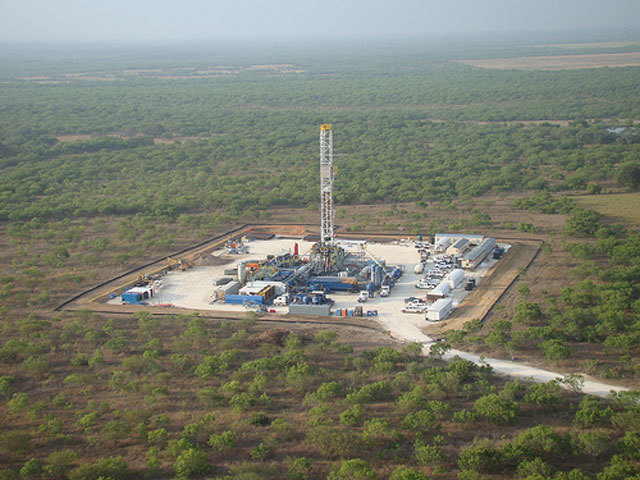 Thousands of Texans who prowled county courthouses, poring over dusty deeds and maps to cash in on the biggest oil boom in decades, are seeing their work go bust.
Land managers, or landmen as they're known, are part of a once dying oil patch profession resurrected when production soared. With the price of crude close to a six-year low of about $46 a barrel, less than half what it was nine months ago, they're among the first to be hit by an energy-industry rout cascading through the economy.
"Almost all the landmen I know have had to take either a serious pay cut, or are working part time or laid off," said Gates Mueller, 29, an independent landman in San Antonio who lost his job in December.
Just about every facet of the US oil-and-gas industry is being affected by the market's slide, from pipeline welding to truck driving to geological exploration.
In Texas, the largest US oil producer, job growth may slow to as little as 1% this year from 3.4% in 2014, putting the state on track to lag behind the rest of the nation for the first time in more than a decade, according to a March 18 report by the Federal Reserve Bank of Dallas.
It said the jobs of as many as 140,000 Texans are at risk.
Landmen are on the front line. When times are good, oil companies hire them to examine property deeds, figure out who owns the petroleum below and strike drilling agreements with landowners.
Former president George W. Bush worked as one. So did the father of billionaire Texas wildcatter T. Boone Pickens.
When times are tough, they're considered expendable as companies cut exploration budgets and focus on existing wells.
"It's had a pretty harsh impact," said Roger Soape, president of the American Association of Professional Landmen, a Fort Worth, Texas-based trade group.
Producers have been idling wells. There were 538 drilling rigs active in Texas by the start of March, down 41% from a high of 906 in November, according to the Fed report. Further declines are expected, the Fed said. Each rig employs about 100 people, according to the Texas Alliance of Energy Producers.
Requests for unemployment insurance benefits from displaced energy-industry workers have risen.
From November through mid-February, 5,361 claims were filed by those who drilled oil and gas wells, a fivefold increase from the same time period a year earlier, according to figures from the Texas Workforce Commission. Claims by refinery workers tripled.
Landmen are largely out of luck. While some are employed by oil companies, many are independent contractors who travel from job to job and get paid a daily rate. As a result, they're typically ineligible for unemployment checks.
For decades, the industry scouts were a dying breed. From 1985 to 2007, crude oil production in the U.S. declined almost every year. It was widely assumed that America's oil production was past its peak and new supplies would come from overseas. Companies weren't exploring.
Landmen weren't needed.
"There was literally a missing generation," said Soape, of the landmen association.
That changed because of hydraulic fracturing, which allowed companies to extract oil from deeply embedded shale reserves. The resulting boom pushed U.S. production by last year to nearly 8.7 million barrels of oil per day, the most since 1985, according to figures from the US Energy Information Administration.
All of a sudden, landmen were in great demand and scarce supply. Colleges and universities, including the University of Texas and the University of Houston, began offering certification courses.
Membership at the trade group representing them more than doubled to 20,000 last year from 2010. In 2012, CNN named it one of the "Best Jobs in America."
The profession became so popular that Kimberly Smith, a landman in Midland, Texas, launched a radio show to discuss mineral rights and leasing in West Texas's Permian Basin. She also tried to burnish the reputation of the profession, whose workers were sometimes seen as oil-company shills out to shortchange landowners.
"We get a bad rep for cheating widows and orphans," said Smith. "But there are so many of us that are conscientious."
At courthouses where they ply their trade, landmen became a regular fixture.
"When it started around 2006, I recall I had three gentlemen come in from Houston telling me, Dianne, you're gonna have a lot of people coming in," said Dianne Florez, the county clerk in Reeves County in West Texas. "Then all of a sudden — boom."
They came in droves. Lines of landmen snaked from her little office inside the courthouse and out the front door. Crowds of them packed into the marble lobby and hunched over the six folding tables that Florez put there after she ran out of space. She increased her staff from three to seven to accommodate the rush.
In 2009, Gates Mueller, the San Antonio landman, graduated from Baylor University with a degree in political science. After a stint in Washington as an intern at U.S. Representative Lamar Smith's office, he decided politics wasn't for him. In 2010, his uncle tipped him off about a friend who needed a landman in Pennsylvania's Marcellus Shale region.
"I got in my car and drove up there," said Mueller.
He learned the nuts and bolts of the job, including sifting through deed records, deciphering mineral ownership reports and negotiating with landowners. At the end of the year he moved back to Texas and worked as an independent landman around the state.
Four months ago, things took a turn for the worse.
"Around Thanksgiving I got the phone call that our client had basically cut us off," said Mueller, who found another job on Dec. 1. "That job ended as well, for the very same reason."
Some landmen are repurposing their skills to become real estate agents, title researchers, paralegals or surveyors. Those jobs could have a hard time competing with the six-figure salaries that some landmen were making.
Mueller, who made around $80,000 per year, recently started a company with an attorney friend, Western Brothers Resources LLC, doing property research and title services for mineral owners. He's banking on a rebound.
"We're really hoping that sometime in the next couple months we're busier than we can handle," he said. ''I'd like to put some other good landmen back to work.''
Recommended for you

Miliband: 'We're going to carry on using North Sea oil under Labour'