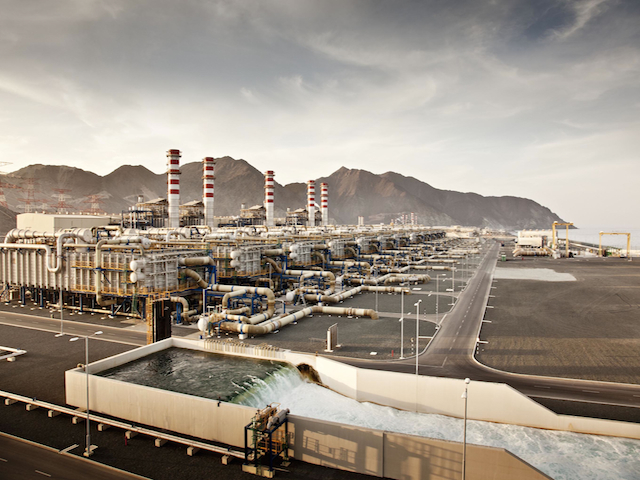 Oil storage companies are refinancing debt and planning borrowing to expand terminals at the United Arab Emirates port outside the Hormuz Strait to help traders manage an oil glut with Middle East borrowing rates near a record low.
Fujairah Oil Terminal FZC, a joint venture between China Petroleum & Chemical Corp. and a Singaporean partner, is seeking to refinance a construction loan, according to two people with direct knowledge of the situation.
Gulf Petrochem FZC, which operates another storage terminal nearby, is considering financing to expand capacity, according to Paul Nix, general manager for terminal operations.
An oil glut estimated by the UAE at 2 million barrels a day and growing Middle East output of products such as gasoline are boosting demand for storage, benefiting Fujairah, the biggest oil storage port on the Persian Gulf.
Refinancing is more attractive with the three-month Emirates interbank offered rate, a benchmark used by banks to price loans, at 0.677 percent last month, matching the lowest since at least 2006.
"There's no reason for storage operators not to go back to the market for refinancing," Vikram Pradhan, head of corporate and institutional banking at National Bank of Fujairah, said in an interview on Tuesday in Fujairah.
"Now that these facilities are operating and have customers and revenue, they can get better rates than what they were able to achieve when they were just projects on paper."
Fujairah Oil Terminal took its first delivery of crude in late February, a shipment of about 1 million barrels, according to Commercial Director Malek Azizeh. Gulf Petrochem has been operating a 412,000 cubic-meter storage terminal in Fujairah since 2013 and is building another one in neighboring emirate Sharjah.
Fujairah, nestled between the UAE's Indian Ocean coast and the Hajar Mountains, lies outside the shipping chokepoint at the Strait of Hormuz at the mouth of the Persian Gulf.
Capacity to store crude and products will increase 75% to about 14 million cubic meters this decade, Ali Al-Yabhouni, the UAE's governor to OPEC, said at the Fujairah Bunkering and Fuel Oil Forum on Tuesday.
That's equivalent to storage space for 88 million barrels of crude.
Brent oil, the international benchmark, jumped as much as 5.7% on Thursday on speculation of supply disruptions after Saudi Arabia started bombing rebel targets in Yemen.
Prices have declined 46 percent in the past year on the expanding glut in the US and the Organization of Petroleum Exporting Countries's decision to maintain its output target.
Sinopec, as China Petroleum & Chemical is known, and partner Concord Energy may refinance a $252 million loan maturing in December 2022 by the end of April, said the two people with knowledge of the matter, asking not to be identified because they're not authorized to speak to media.
The loan carried an interest rate of about 2 percentage points, or 200 basis points, more than the London Interbank Offered Rate, according to data compiled.
Gulf Petrochem received $80 million in financing from five banks for its first terminal in 2013, Group Director Prerit Goel said at the time. Abu Dhabi Islamic Bank PJSC led the group arranging the seven-year syndicated loan, he said.
"Fujairah-based terminal operators are actively exploring financing options to support future growth plans," said Bora Boriman, head of energy and marine financing at National Bank of Fujairah.
"Traders recognize the value of maintaining strategically placed inventories that can be delivered to customers on short notice."
Another storage venture of Royal Vopak NV and Dubai's government-owned refiner Emirates National Oil Co. started building five crude tanks this month that will be leased by Royal Dutch Shell Plc, Salem Khalil, the government of Fujairah's technical adviser, said Tuesday.
The Fujairah government, along with Kuwaiti trader Independent Petroleum Group, also hold stakes in the venture known as Vopak Horizon Fujairah Ltd.
Gulf Petrochem wants to add new tanks to store crude and refined products, Nix said. It's also building a bitumen refinery in Fujairah and a smaller fuel storage unit in Sharjah.
"We wouldn't be expanding if there wasn't demand," Nix said in an interview on Tuesday. "Financing won't be a problem."