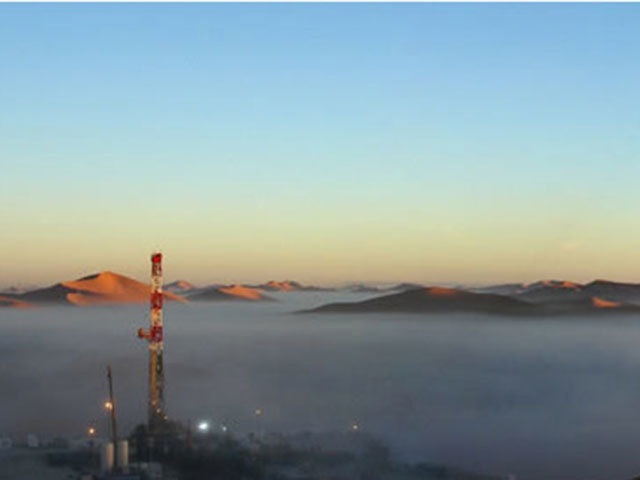 Petroceltic has hit back at Worldview Capital, after the majority shareholder accused it of squandering the "company's crown jewel".
The oil firm, which has plans to explore a $175million bond secured on one its Algerian assets, issued a statement today after the Swiss fund company challenged the move.
Petroceltic claims the firm " has not to date received a requisition from Worldview to convene an EGM of the company" despite recent reports to the contrary.
Petroceltic came out swinging a day after Worldview accused the Irish explorer of "squandering shareholder value".
Yesterday Worldview, a hedge fund owned by Angelo Moskov, issued a heated statement targeting Petroceltic's financial decisions.
A spokesman said: "As predicted by Worldview in its EGM circular issued in February 2015, Petroceltic appears to have now run out of money. As a result it is proposing to pledge the company's crown jewel, namely its participation in the Ain Tsila asset, as a security for a contemplated $175 million bond issuance. In our view, this will result in squandering shareholder value.
"Given company's past history of very poor financial management and false claims, Worldview is extremely concerned that such bond issuance will be perilous to shareholders. Owing to the company's consistent inability to produce sufficient cash flows, proceeding with the bond issue on the announced terms would, in our view, likely result in bondholders eventually securing the world-class asset for a derisory sum."
However, Petroceltic, today hit back stating it had been consistent in disclosing information and done its due diligence. The bond represents the first step in diversifying the group's funding base, according to the firm.
A spokesperson said: "Since 2013, Petroceltic has been consistent in disclosing its intention to consider such a bond issue or equivalent financing as part of its long-term plan to part finance the development of the Ain Tsila asset in Algeria. Petroceltic confirmed at its 2015 capital markets day that its objective was "to effect a partial or first stage of refinancing during 2015". This financing strategy has been discussed extensively with shareholders, including Worldview. The Bond Issue will be undertaken in full compliance with all applicable legal and regulatory requirements.
"Bond Issue is being proposed, and will be effected, entirely in accordance with the provisions of the Company's existing Articles of Association, which are available on our website, and Irish company law. The amendments to the existing Articles proposed for consideration by shareholders at the forthcoming AGM of the Company on 24 July 2015 are solely those required to reflect the enactment of the Irish Companies Act 2014 or to make consequential or minor housekeeping changes. The approach proposed by Petroceltic is consistent with that taken by most Irish plcs whose shares are listed in Dublin or London and who have undertaken a similar exercise."
Earlier this week the company reported an annual loss of $282million. Proceeds of the bond are expected to be used to refinance up to $50m of Petroceltic's debt.
This is the latest sparring of words for the two companies. The pair are locked in power wrangle for control of the board.
Earlier this year, Worldview made a failed attempt to out Brian O'Cathian as the company's chief executive. But shareholders rejected Worldview call for demotion at February's EGM.
Worldview owns 29% of the firm.
The war of words has since seen Petroceltic's shares slide 34%.