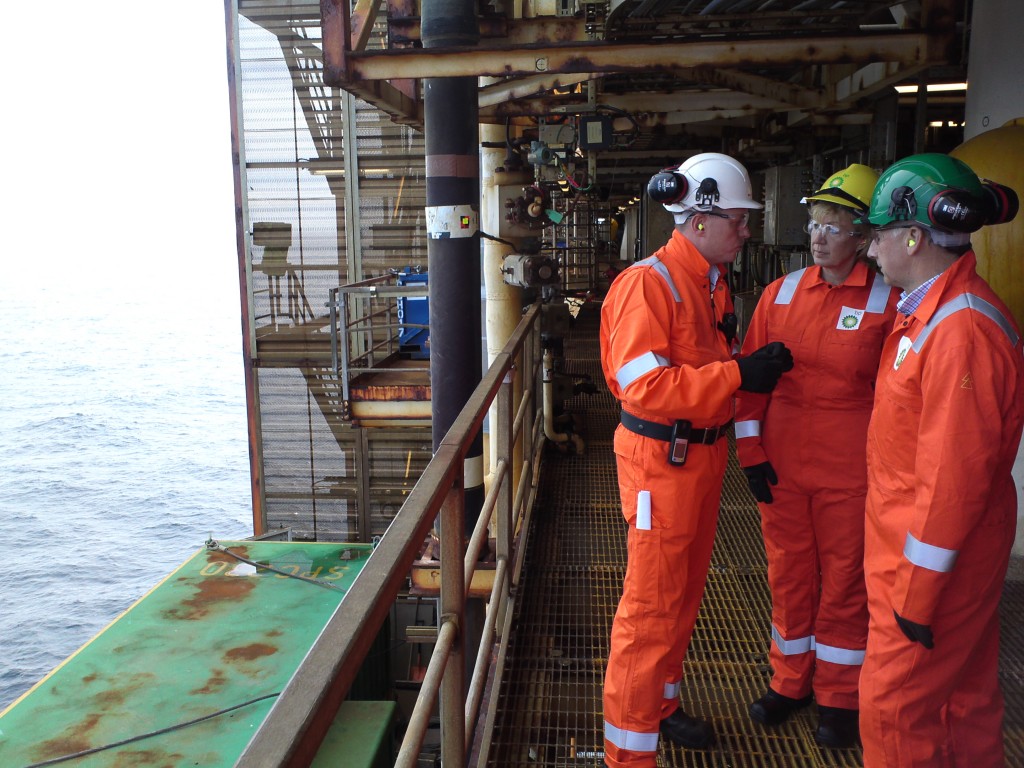 It could easily be dubbed one of the North Sea's most important helicopter rides.
The day's flight roster included Oil and Gas Authority chief executive, Andy Samuel, BP's regional president for the North Sea, Trevor Garlick, UK Energy Minister Andrea Leadsom and DECC's head of the Wood Review Implementation team, Stefanie Murphy.
The destination – a Central North Sea site dating back to the 1970s.
Add in a sharp oil price decline, thousands of job losses and a slowed exploration market and the stakes begin to get a lot higher.
But despite the varying pressures one thing was incredibly clear from the day's journey – there's still everything to play for.
BP's bumper $1billion investment in the ETAP field, as exclusively revealed by Energy Voice, is evidence of that.
The oil giant's regional president for the North Sea Trevor Garlick said: "The solution to the North Sea is to keep investing. If we stop investing we're finished."
But the investment doesn't always have to chase the undiscovered. A low oil price dictates companies re-evaluate what they already have, according to Garlick.
"It's really hard to find big new statement discoveries," he said.
"It's daft to not look hard, at least, of making the most of what you have. We saw the potential here and now what we have is essentially a 30million barrel field.
"It's about asking what else can we do with that?"
In the $100 barrel oil era, BP was going after "very high price, complicated wells".
Now the firm is going back to the basics, levering the infrastructure already there to yield the greatest returns – "building wells to cost".
"BP's North Sea strategy is to focus on the Central North Sea and West of Shetland," Garlick said.
"It's about renewing the assets that are there and finding new discoveries.
"The renewal is really important and we've started doing it on Andrew and then Magnus by looking at all the other opportunities available to these assets."
He added: "We're now saying let's go everywhere and scope our other existing wells."
The second look will see ETAP nearly double its lifespan, increasing the BP's recovery on site from 25% to 33%. With continued technological advancements it's thought that number could get as high as 45%.
The oil major also has plans to drill two new wells on site in the coming the months.
BP North Sea's vice president for reservoir development, Dave Lynch, hopes those levels of return – all a direct result of investment –will kick-start a forward momentum.
He said: "I think it gives hope and by giving hope that spurs imagination – imagination in technology and so many other things the industry needs to be successful.
"It's really important that we make the most of old reservoirs and invest in that product especially at the economics of $50 a barrel."
But the fresh approach will have to transcend more than just the technology, according to Garlick.
The supply chain will also need to adjust. The company leader addressed the need for costs to come down.
At ETAP, BP managed to contract two drilling rigs in at a more attractive price.
He said: "They're still making money.
"They're not making as much per one well but they're doing more wells because we're able to drill more wells at the lower price. The supply chain is responding."
For OGA chief executive Andy Samuel BP's approach is the way forward for the North Sea.
He said: "I think actually what BP is doing with ETAP is exactly what we would like to see other operators doing in mature areas.
"For example some of the wells they are drilling are relatively low cost, high return and it still works at $50 incentivised by the new investment allowance.
"This is the way to actually, in addition to the cost reductions and efficiency work, to really improve longevity and the margins in this basin."
He added: "For me success is not about the number of licences. It's about drilling and economic action."
OGA's £20million seismic survey is aimed at spurring on that action, according to Samuel.
Since getting the go-ahead in March, the OGA has mobilised three vessels in the field covering more than 1,000km – lightning speed by North Sea standards.
"Overall we're looking to actually cover an area of 220,000 square kilometres, so to put that into perspective that's about the size of the UK," he said.
The data will then been shared with the industry.
But the OGA expects the industry to give back.
"We're working with the industry to identify lessons and share the learnings," he said.
"We want to know what's working and what's not going right – particularly the failures because we must learn from them so we don't repeat the same mistakes.
"I think this needs to become a greater commitment from the industry because we have got the fields and it's in everyone's best interest to share these learnings."
BP's success with ETAP is a start.
The OGA leader said the bumper investment sends a clear message to the global community ahead of this year's Offshore Europe.
He added: "The North Sea remains a very attractive place to invest and continues to have much more potential, particularly with this new fiscal regime and all that the government is doing to support industry. We have some great examples of people doing some really good business here."
UK Energy Minister Andrea Leadsom added: "It really is an amazing engineering feat and it's very heartening to see how committed BP is to it."
BP's $1billion investment may be the start of what's to come, but for the company it has been 18 months in the making – largely made possible by recent government incentives.
Trevor added: "I wouldn't say it's always been easy but at the time of sanction it was $60 oil and that's still a good investment."
With an estimated 2 billion barrels of oil contained in the ETAP's confines, a $1billion second look is more than merited.
For additional exclusive interviews and more on the North Sea watch the video.
Recommended for you

North Sea giants win big through INTOG floating wind auction