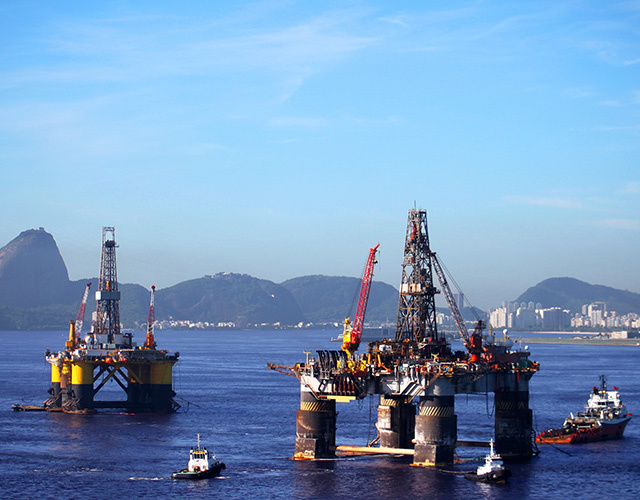 The two oil basins off Rio de Janeiro's coast offer a glimpse into the tough choices Petroleo Brasileiro SA is making as it slashes $77 billion in investments.
The Campos Basin along Rio's north shoreline produces more oil than any other region in Brazil, but output is sliding fast as fields age. The Santos Basin to the south holds Brazil's biggest-ever crude finds, but the massive deposits up to four miles deep are costly to tap. They each need billions of dollars in investments. Petrobras doesn't have the cash for both.
The dilemma highlights how far Brazil's state-run oil giant has fallen since its 2010 heyday, when it raised $70 billion in what was then the world's biggest-ever share sale to fund projects from Africa to the Gulf of Mexico. Since then, a sweeping corruption scandal and tumbling oil prices have forced it to scale back operations. It's now trying to sell almost $60 billion of assets and cut more than a third of a five-year investment plan that was once the world's largest.
"They definitely took their eye off the ball when everyone got overly excited about the pre-salt," as Santos's biggest fields are known, said Ruaraidh Montgomery, a Houston-based senior analyst for oil and gas corporate research at Wood Mackenzie. Petrobras's challenge is to balance Santos' "heavy upfront investments" while making sure "the good cash-flow- generating assets get the investments they need" at Campos.
The decision whether to focus on Santos or Campos isn't just about bolstering Petrobras's output or cash flow — although the struggling company certainly needs the boost to help pay off the global oil industry's heaviest debt load. Santos, which holds as many as 100 billion barrels of recoverable oil according to some estimates, is also a cornerstone in Brazil's plan to become a major oil player on the world stage.
Rio de Janeiro-based Petrobras didn't respond to a request for comment. The company's stock fell 1.3 percent to 9.82 reais at 10:13 a.m. in Sao Paulo trading.
Petrobras has been scaling back some Campos operations and shedding some older assets in recent years in favor of ramping up Santos output. And it shows: Petrobras's production at Campos fell to 1.4 million barrels a day in June, a 16-month low. That accounts for 65 percent of national production, down from 76 percent in 2012. While Petrobras is boosting oil extraction from its money-losing pre-salt fields, it's barely enough to make up for the drop at Campos.
"It's going to be hard to get net increases with this type of decline and the cap-ex cuts we're seeing," said Bernardo Wjuniski, a Brazil oil industry research analyst at Medley Global Advisors.
Petrobras is also embroiled in a corruption scandal that has spread to the nation's biggest builders and helped drive Brazil toward its worst recession in a quarter century.
Further complicating matters is the plunge in oil prices, which could prompt Petrobras to cut investments even more, Deutsche Bank AG said Monday in a report. Oil has tumbled 52 percent in the past year, and Brent for September settlement closed at $50.21 a barrel Monday.
The company needs Brent prices of at least $85 a barrel and parity with international fuel prices to fund investments and interest payments next year, Deutsche Bank said. Petrobras says Brent at $60 a barrel in 2015 and $70 in 2016 through 2019 are enough to finance its $130 billion, five-year investment plan.
The oil-price plunge "increases all the pressure on their balance sheet," said Montgomery, the Wood Mackenzie analyst. "The pre-salt business, it's still not giving anything back. It's sucking capital out of the company."
Recommended for you

Shell joins Exxon with $1 billion Brazil exploration setback