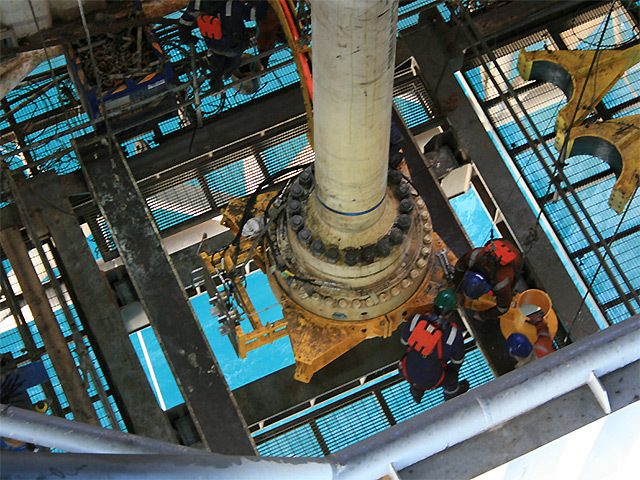 US oil explorers idled rigs for a sixth week as they grapple with crude near $50 a barrel.
Rigs targeting oil in the US fell by 9 to 605, adding to the 61 sidelined in the previous five weeks and extending a five-year low, Baker Hughes Inc. said on its website Friday. Equipment put aside in the Permian Basin in West Texas led the decline.
"We were expecting a lot of the marginal vertical and directional rigs to start coming back out of the market, and that's exactly what we saw this week," Matt Marietta, an analyst at Stephens Inc. in Houston, said. "Overall this is a trend I think is going to continue into year-end."
America's oil drillers have idled more than half the country's rigs since last October as the world's largest crude suppliers battle for market share. The crude being pumped out of U.S. shale formations helped create a global glut that's pushed prices down by more than 50 percent since June 2014.
However, new techniques that increased efficiency have prevented production from falling into a tailspin. U.S. crude output rose by 76,000 barrels a day to 9.2 million last week, the biggest gain in nearly half a year, according to Energy Information Administration data. Production reached a four- decade high of 9.61 million in June.
Nationwide crude stockpiles rose 3.07 million barrels to 461 million in the week ended Oct. 2, the EIA said. Supplies were forecast to have gained by 2.25 million barrels last week, according to a Bloomberg survey.
Drillers in the Permian sidelined 10 oil rigs, reducing the count there to 230, Baker Hughes said. In the Eagle Ford shale formation, the number fell by 2 to 67.
West Texas Intermediate, the US benchmark crude, rose 20 cents, or 0.4 percent, to settle at $49.63 a barrel on the New York Mercantile Exchange. Oil prices have climbed by nearly a third since the last week of August.
Price gains have been driven by "hot money chasing headlines," Ed Morse, the head of global commodity research at Citigroup Inc. in New York, said earlier this week in a television interview with Bloomberg Surveillance. Investors are mistakenly thinking that the falling US rig count signals an immediate slide in output, he said.
Drilling activity is poised to continue falling in the US through the end of the year, barring a spike in oil prices, Jennifer Stevenson, a vice-president and portfolio manager at 1832 Asset Management LP in Calgary, said in an interview on Thursday.
"You'll see more rig drops and less completion activity," Stevenson said. "The Saudis are winning, in as much as their strategy to make sure that the demand for the only product they sell continued to grow worked perfectly."
Recommended for you

233 years of rig contract backlog added in 2021 as Brent price climbs