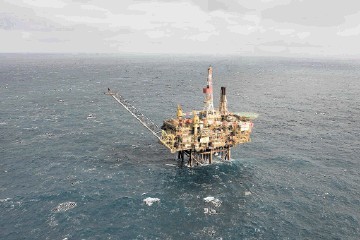 The director of WWF Scotland has described the £22,500 handed to Shell following the Gannet oil spill as "paltry" and disappointing.
The energy giant was fined at Aberdeen Sheriff Court earlier today after admitting it committed one of the worst North Sea oil leaks in the past decade following a pipeline leak from the Gannet Alpha in August, 2011.
More than 200 tonnes of light crude oil leaked from a flow line on the seabed 112 miles east of Aberdeen.
The case against Shell called at Aberdeen Sheriff Court today following a lengthy investigation.
Lang Banks, WWF Scotland director said: "While it's welcome that Shell has accepted its guilt, the paltry size of the fine handed down will do little to deter future poor behaviour by it or the rest of the oil and gas industry.
"Despite being responsible for the worst North Sea spill in a decade, the level of the fine is literally a drop in the ocean when compared to the billions earned by Shell annually.
"When it comes to protecting the marine environment and its own employees it's absolutely right that oil companies are prosecuted for their mistakes and that lessons are also learned by the wider industry. It's therefore disappointing that the fine was not much larger in this case.
"The Gannet Alpha spill showed that even in easy waters, a long-experienced operator can make a total mess of dealing with an oil leak.
"We should all be thankful that the problem didn't escalate into something much more serious."
Paul Goodfellow, Shell's Upstream Director, UK & Ireland, said the company has learned lessons following a comprehensive review of the company's North Sea pipeline system and applied them across its UK upstream operations.
Recommended for you

Oil majors near concept-select for electrifying North Sea platforms