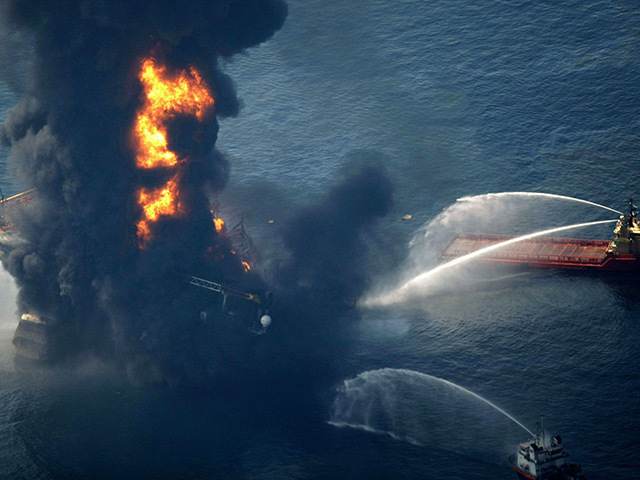 Federal prosecutors dropped manslaughter charges against BP's top two employees on the doomed oil rig that blew up in 2010, the latest setback for investigators probing the largest offshore oil spill in US history.
The dismissal of the most serious charges against Robert Kaluza and Donald Vidrine, who supervised testing on the Macondo well, means the two won't stand trial for the deaths of 11 men.
Kaluza and Vidrine were among four BP workers who were criminally charged in the aftermath of the spill.
The US accused the pair of ignoring multiple signals that the well was dangerously unstable before the explosion.
Kaluza and Vidrine were each charged with 11 counts of manslaughter and one count of violating the US Clean Water Act. The pollution count remains, according to court filings.
The two BP workers had earlier won dismissal of 11 counts of seaman's manslaughter, a separate crime, after a court ruled that the victims weren't seamen.
Vidrine is appearing in court Wednesday in a hearing over the pollution count. He has denied wrongdoing.
David Rainey, BP's former vice president of exploration, was acquitted in June of federal charges that he lied to prosecutors in connection with company estimates on the size of spill.
Kurt Mix, a former BP engineer, pleaded guilty in November to deleting text messages related to spill estimates, following reversal of an earlier conviction.
Wyn Hornbuckle, a Justice Department spokesman, didn't immediately return phone and e-mail requests for comment on the dismissals. Defense lawyers couldn't immediately be reached.
BP agreed in 2012 to plead guilty to 14 charges, including 11 of manslaughter, and pay $4 billion to resolve all criminal claims against it arising from the Deepwater Horizon blowout.
Recommended for you

Glencore flew cash across Africa in private jets to pay bribes