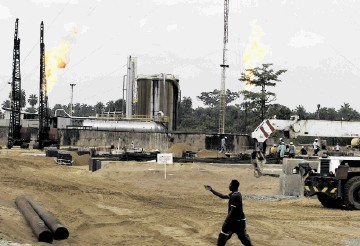 A general strike called in Nigeria to protest against higher fuel prices drew only partial compliance after the main unions failed to take a common stand following talks with the government and an injunction imposed by an industrial court.
The Nigeria Labour Congress said it was going ahead with an indefinite strike beginning Wednesday, President Ayuba Wabba told reporters in the capital Abuja late Tuesday, while the Trade Union Congress suspended their planned action, President Bobboi Kaigama said.
"The government has not met our demands and so as far as we are concerned the strike we gave notice for still holds," Wabba said. "The fuel price increase is outrageous. We have been in talks all day and have not received any communication from court. We haven't been served." The government will consider any strike as illegal after a court ruling, said Bababchir David Lawal, secretary to government of the federation.
Banks, schools, and businesses were open Wednesday in the capital, Abuja while several offices were shut at the Federal Secretariat, where most government ministries and departments are located. In the commercial capital, Lagos, banks, schools and government offices were open. In the southern oil hub of Port Harcourt, government offices were closed while banks and other private businesses were open.
Nigeria's petroleum minister, Emmanuel Kachikwu, last week announced a 67 percent increase in the cap price of gasoline to 145 naira ($0.73) per liter (0.26 gallon), and said the raise would encourage oil marketers to increase imports and curb the worst fuel shortages in a year.
He warned that to keep prices low would also threaten a financial crisis at a time when oil revenues have dried up.
Nigeria's two union federations accused President Muhammadu Buhari of breaking a pledge he made not to increase fuel prices while running for office a year ago.
In a joint statement last weekend, the NLC and the TUC vowed to shutdown offices and businesses if previous gasoline prices are not restored.
Unions and civic groups delivered on a similar threat in 2012 when their nationwide strike crippled businesses after former President Goodluck Jonathan attempted to remove gasoline subsidies. In the face of protests he climbed down and partially reinstated the price cap.
Nigeria's statistics agency blames the fuel shortages, which have been on and off since May last year, for contributing to an 8 percent drop in labor productivity in the fourth quarter.
In his testimony before lawmakers on Monday, Kachikwu said that keeping prices low was risking social disruption and non-payment of salaries by the government. Nigeria, although one of Africa's biggest oil producers, imports over 70 percent of refined fuel to meet domestic demand due to insufficient refining capacity.
The increasing cost of fuel drove Nigeria's inflation rate to an almost six-year high of 13.7 percent in April.
The strike is happening as growth in Africa's largest economy is forecast by the International Monetary Fund to drop to 2.3 percent this year due to falling crude prices that account for most of its revenue.
The reemergence of militant attacks on crude oil facilities in the Niger River delta has reduced production to a two-decade low, which if not reversed, could shave 1.3 percentage points from growth this year, John Ashbourne, economist at Capital Economics Ltd. said in a note on Monday.
"The strike might not be effective or successful because the NLC didn't read the mood across the nation," said Soji Apampa, executive director of the Lagos-based Convention on Business Integrity. "Divisions within and among the unions has reduced the NLC's capacity to mobilize an effective nationwide strike."
Recommended for you

Airlines walk back no-fly threat