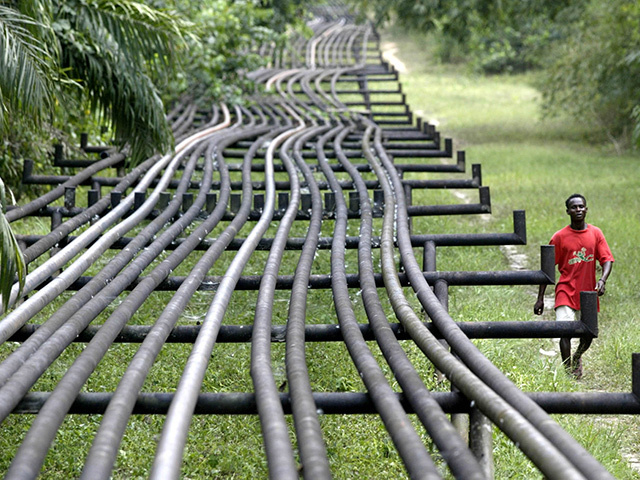 Militants in Nigeria have continue their campaign against oil majors, blowing up gas and crude pipelines belonging to Shell and Agip on Saturday.
The group, which calls itself the Niger Delta Avengers, said the used dynamite to blow-up the trunkline linking Shell's Bonny terminal to Agip's Brass export terminal. A local community leader Eke-Spiff Erempagamo confirmed the attack.
The group has told oil companies they must leave the Niger Delta by May 31.
The group warned: "Watch out something big is about to happen and it will shock the whole world."
The attacks have seen Nigeria's oil production drop from 2.2million barrels a day to 1.4million barrels a day. The militants have demanded a greater share of the country's oil wealth. Their efforts have won support from some community leaders and non-violent activists.
Supporters of Nigeria's government and the southern based opposition party are accusing each other of funding the Avengers.
Nigerian President Muhammadu Buhari said he would hold talks with leaders in the Niger Delta to discuss the spate of attacks.
In a televised broadcast, he said: "We shall keep a close look on how the recent measures affect the naira and the economy.
"But we cannot get away from the fact that a strong currency is predicated on a strong economy."
He added: "The recent spate of attacks by militants disrupting oil and power installations will not distract us from engaging leaders in the region in addressing Niger delta problems."
Recommended for you

'It felt like a body blow': Shell CEO reflects on 2021