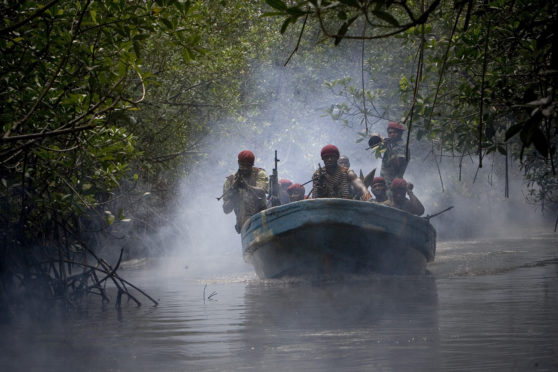 A Scottish oil worker kidnapped by gunmen in the oil-rich Niger Delta region has been freed.
John Hiddleston was abducted alongside two workmates during a raid on a platform in the Ogbele area of Rivers State, southern Nigeria on April 26.
It sparked a major military operation, with the Nigerian Army working with other security forces to locate the trio.
Mr Hiddleston and his colleagues suffered "considerable trauma" and were found abandoned in a remote forest by the forces trying to track them down.
Their kidnappers had fled when they realised the elite troops were closing in.
Mr Hiddleston, from Dumfriesshire, is still in Nigeria receiving medical treatment following his ordeal.
The 65-year-old is married and has been working in the energy sector for more than 20 years.
Canadian Dwight Sullivan and a local worker were the other men abducted from the installation.
Deputy superintendent Nnamdi Omoni, of Rivers State Police Command, said: "The men were rescued due to pressure on the gunmen by security agencies.
"All hands were on deck. There was an intense manhunt.
"Security forces have been working tirelessly to release them.
"We were tracking them. They were found in the forest close to where they had been kidnapped. The gunmen were not there.
"To the best of my knowledge there was no ransom.
"They are shaken because of the considerable trauma and what they suffered at the hands of their abductors."
The Foreign Office has confirmed Mr Hiddleston is freed, and a spokesman said his family was being supported.
He said: "Foreign Office staff are supporting a British man following his release from captivity in Nigeria.
"We are in close contact with the National Crime Agency, and Police Scotland officers are providing support to his family.
"National Crime Agency officers are in close contact with the Nigerian agencies handling the case.
"This has been a very challenging period of time for all concerned, and we are grateful to the media for respecting the privacy of the families."
Platform owners Niger Delta Petroleum Resources said their security arrangements are being "enhanced."
Kidnappings and attacks on oil and gas facilities and pipelines are commonplace in the Niger Delta.
Armed groups have regularly resorted to violence in a bid to secure a bigger share of oil revenues for the region.
Recommended for you

Africa Oil sees progress looming in Nigeria, Kenya