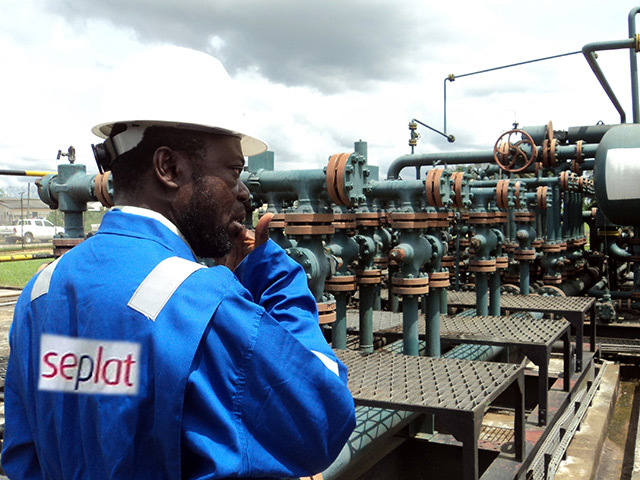 Seplat Petroleum's production slipped during the first nine months of 2019 versus the same period in 2018, although profit increased substantially.
The Nigerian-focused company produced 47,163 barrels of oil equivalent per day during the period, down from 50,303 boepd in the 2018 period. The company now expects to produce 45,000-48,000 boepd over the year, down from previous forecasts of 49,000-55,000 boepd. Of this, liquids will make up 23,000-25,000 barrels per day, with 128-133 million cubic feet (3.6-3.77 million cubic metres) per day of gas.
Seplat said performance had slipped in the face of rig delays, but it now has four rigs in work with a predicted exit rate of 30,000 barrels per day of liquids.
"2019 so far has seen us make significant progress towards furthering our ambitious growth strategy. While our production and financial performance has dipped in [the third quarter] as a result of slippage to our drilling programme and weaker pricing, the core business remains highly cash generative and with four rigs now operational in the field we expect to quickly regain momentum," said Seplat's CEO Austin Avuru. "This is reflected in our decision to declare an interim dividend of US$29 million."
In mid-October, Seplat announced a plan to buy Eland Oil and Gas, which owns OML 40 in the Niger Delta. Avuru described this move as a "logical continuation" of Seplat's business model. "Following completion, the enlarged asset base will enhance our inventory of production, development, appraisal and exploration opportunities and enable us to ensure capital continues to be deployed to the most value creative opportunities for shareholders."
Following the Forcados export outage of 2016-17, most of the independent producers in the Niger Delta reassessed how they should move oil to the coast for shipment. Seplat signed up to support a pipeline plan by Panocean that would run from Amukpe to Chevron's Escravos, another terminal. The company had previously hoped to bring this 160,000 bpd pipe into operation in 2019 but this has been pushed back to the first quarter of 2020.
Revenues for the nine-month period reached $495mn, down from $568mn in 2018. This was a result of lower production and lower prices. Gross profit also fell, to $265mn from $306mn, but net profit reached $185mn, roughly double the $91mn reported for the same nine months of 2018. Capital expenditure was up, at $64mn from $29mn, with full-year spending expected to be around $120mn.
Going gas
Seplat has made major moves in the gas sector, in line with the government's stated priorities and its Seven Critical Gas Development Projects (7CGDP). Seplat's shared ANOH project is one of the seven gas projects with the plan reaching final investment decision (FID) in March. First gas is targeted for the first quarter of 2021, with production in the first phase to reach 300mmcf (8.5 mcm) per day.
The government and Seplat have both chipped in $150mn each to the ANOH Gas Processing Co. (AGPC), with a final instalment due in the last quarter of $120mn. Debt funding should be lined up in the first half of 2020.
Avuru said this plan was the "the next major growth phase" for Seplat's gas business, which will "position us as Nigeria's largest supplier of processed gas to the domestic market". Gas production and sales fell during the period, owing to problems at the Oben-47 and -48 wells.
Recommended for you

Capricorn sharpens Egypt production focus, despite receivable woes