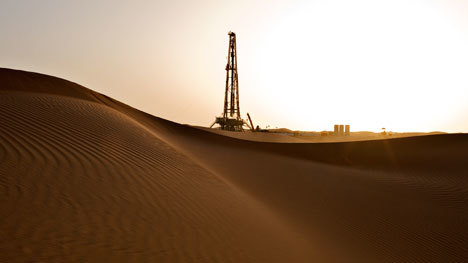 A veteran Algerian politician won a presidential election spurned by most voters, giving fresh impetus to protests demanding a complete revamp of the OPEC member's political system.
Moments after Abdelmadjid Tebboune, a 74-year-old former housing minister, was declared the preliminary winner with 58% of ballots, demonstrations resumed in the capital, Algiers. Thursday's voting was marred by clashes between protesters and police, and the sacking of some polling stations.
"God is greatest, the vote is rigged," hundreds chanted in Algiers after his victory was announced by the North African country's election commission.
Tebboune beat four other contenders with close ties to the ruling establishment to succeed President Abdelaziz Bouteflika, who led the country for 20 years until resigning in April amid mass demonstrations. Tebboune served a short-lived term as prime minister in 2017, part of more than four decades of service in government and the public sector.
Following Bouteflika's fall, protesters have repeatedly taken to the streets to demand the removal of "le pouvoir," an elite of military, government and business figures that's controlled Algeria since independence from France in the 1960s. The crisis comes as the gas-rich country on Europe's doorstep faces looming economic problems.
The head of Algeria's powerful army, Ahmed Gaid Salah, insisted the election was the only way to preserve stability. The official turnout figure of 41.1% — the lowest-ever for a presidential election — showed many in the country of 43 million were unconvinced.
"With such a lack of legitimacy, the challenges ahead will be enormous," Dalia Ghanem, a resident scholar at the Carnegie Endowment for International Peace, said on Twitter after Tebboune's win. The ex-minister was widely seen as Salah's favorite in the vote.
Tebboune during his campaign pledged his support for a purge of some members of the old regime and recover embezzled funds. In recent months, former prime ministers and a top security official that were loyal to Bouteflika have all faced corruption trials.
But government critics have been the main targets of recent crackdowns. On Wednesday, an Algerian cartoonist known as Nime was jailed for three months for an image accused of insulting authorities. In November, dozens of activists were detained, including popular figures in the youth-dominated protest movement such as Karim Tabbou.
"Tebboune is not my president," declared Jamel, a 40-year-old taking part in Friday's protests in central Algiers. "He will certainly have some huge problems with the people," he said, describing the new president as "a puppet."
"The generals will continue to decide for us."
Recommended for you

Italy wheels out top politicians for North African energy push