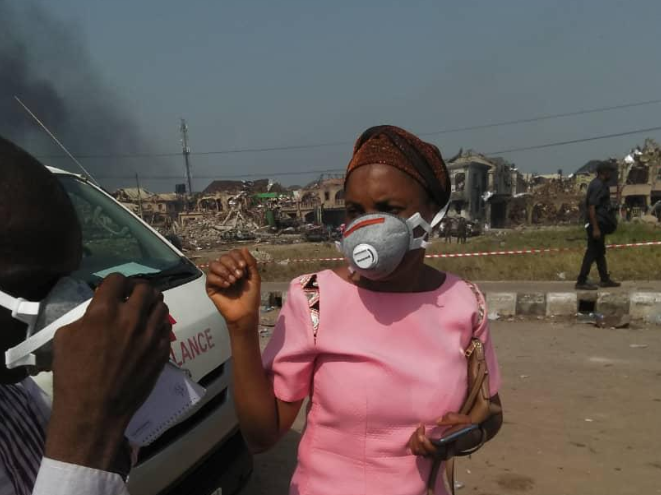 An explosion involving a Nigerian National Petroleum Corp. (NNPC) pipeline in Lagos State has led to the deaths of at least 15 people.
NNPC noted that an explosion in Abule Ado in the early hours of March 15 had occurred. A truck was reported to have collided with some gas cylinders that were stacked at a gas processing plant, near the company's 2B pipeline right of way.
The explosion was so large that it had destroyed nearby houses and damaged a pipeline, leading to a further fire.
NNPC's head Mele Kyari, in a statement on Twitter this morning, said the pipeline fire had reignited at 5:10 am, blaming residual fires. A team including various government agencies, including NNPC and the Lagos State government, had brought this under control and taken steps to prevent it recurring.
UPDATE!!! The fire is still on. Although it is contained in a hole has you see here, it hasn't been put out yet. #festacexplosion #abuleado pic.twitter.com/nWoXC22RDW

— Olalekan Olafusi (@black_able) March 16, 2020
The head of Nigerian Pipelines and Storage Co. (NPSC) was at the site to work with the state government, Kyari said.
NNPC said it had reduced pumping at the Atlas Cove-Mosimi pipeline swiftly after learning of the explosion. Shutting down the products pipeline would not have an impact on supplies to Lagos, it said.
The company had also provided additional firefighting equipment and personnel to assist.
Gas explosion in Abule Ado, Festac area of Lagos State. Leaving at least 15 people dead and several others injured. Multiple houses and cars also affected. #abuleado #festacexplosion @cnbcafrica @AFPphoto @BBCBreaking @BBCAfrica @CNNAfrica pic.twitter.com/mqV0rMpBFQ

— Olalekan Olafusi (@black_able) March 15, 2020
Nigerian President Muhammadu Buhari expressed sadness at the news of the explosion and sent his sympathies to the victims and families.
Lagos Governor Babajide Sanwo-Olu said the state was working with various agencies in the aftermath of the incident. The governor said he had ordered the Lagos State Environmental Protection Agency (LASEPA) to provide personal safety equipment to those living in the area and to "first responders and all safety workers at ground zero".
The agency flagged concerns about residents potentially inhaling toxic substances.
There have been a number of pipeline incidents in Lagos. These are often caused by thieves trying to steal petroleum products from pipelines. Reports in December 2019 noted a pipeline fire on the 2B system as a result of attempted bunkering.
Recommended for you
X

Helicopter flights to BP platforms will no longer stop in Shetland