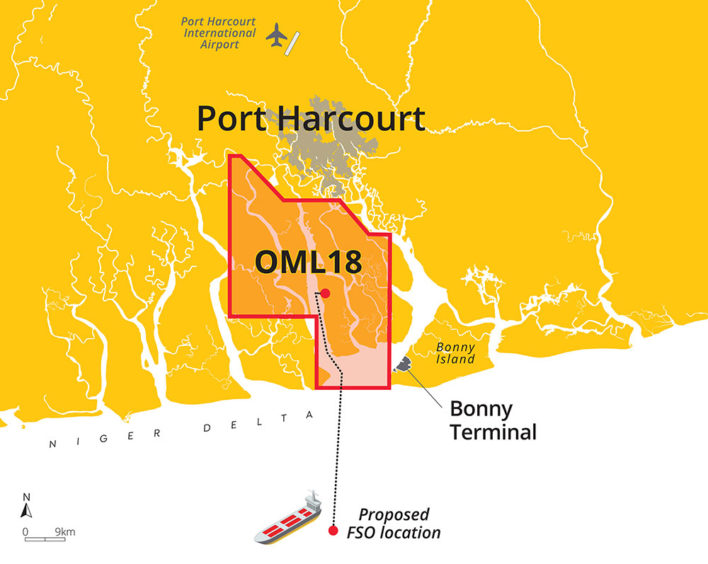 Nigeria-focused San Leon Energy will stump up $15 million as a loan to secure the completion of the Alternative Crude Oil Evacuation System (ACOES), for exports from its OML 18.
Energy Link Infrastructure (Malta) is building the link. This 100,000 barrel per day pipe will connect OML 18 to a floating, storage and offloading (FSO) vessel. Crucially, companies transporting crude via the new ACOES link expect transmission losses to be reduced.
The $15mn loan will increase the amount of crude OML 18 can export,
Production from OML 18 currently runs via the Nembe Creek Trunk Line (NCTL). In 2019, San Leon reported gross production at the licence of 50,000 bpd. Taking into account downtime and losses, it only sold around 29,500 bpd.
The NCTL's downtime increased in 2019, to 24% from 12% in 2018.
Cutting losses
"The ACOES runs down a river and then 50 km out to sea, while the NCTL runs through a swamp. If anyone taps into the NCTL, you can't see and it's hard to detect where it is. Putting the pipeline down the river means that any bunkering will be seen immediately, while a naval destroyer goes up and down that waterway, it avoids the swamp completely," San Leon's CEO Oisin Fanning told Energy Voice.
Pipeline losses will "all but disappear", Fanning predicted.
The ACOES is expected to start up at the end of September or early October. This will allow all of the production from OML 18 to switch from NCTL to the new link. Transmission costs are comparable, at around $5 per barrel. Shell is signed up as the offtaker for oil from the FSO, which can store 2mn barrels of oil.
"We're doing 50,000 bpd but we can do more and people in the area want to move to the new system, away from the NCTL. There's heightened demand. Within a number of months, it should be full," Fanning said.
Financing
The project had been due to start up in May. There were some delays, including the impact of COVID-19, which saw ELI require additional funding. "That was an opportunity for us and now all the delays are out of the way," Fanning said.
"We've invested $15 million in ELI, with a one-year moratorium, in exchange for which we will receive a 14% per year coupon and a 10% stake in the pipeline. We can also appoint a member to the board," Fanning said.
The first $10mn will be provided to ELI this week, while the remaining $5mn will come in the fourth quarter of this year. The second payment will come when Midwestern Leon Petroleum pays its next instalment on a loan from San Leon.
Structuring the support as a loan preserves San Leon's capital. The company took a similar course of action in 2016 when it provided funds to partners on OML 18. Midwestern Oil & Gas, which is one of San Leon's major shareholders, also has a stake in ELI.
"There are two ideas in mind. We want to preserve capital and pay dividends. That trend will continue," Fanning said. "There is no question we are looking for other opportunities of the same ilk."
Those opportunities will only be in Nigeria, Fanning said. The executives know the country well, he said, and the opportunities are huge.
San Leon's role as a financial partner, taking a share of equity and upside, may be well suited to the country's marginal field licence round. Only indigenous companies can be awarded blocks but some of these players will require cash to get plans under way.
Recommended for you

San Leon's Eroton out as operator after NNPC move