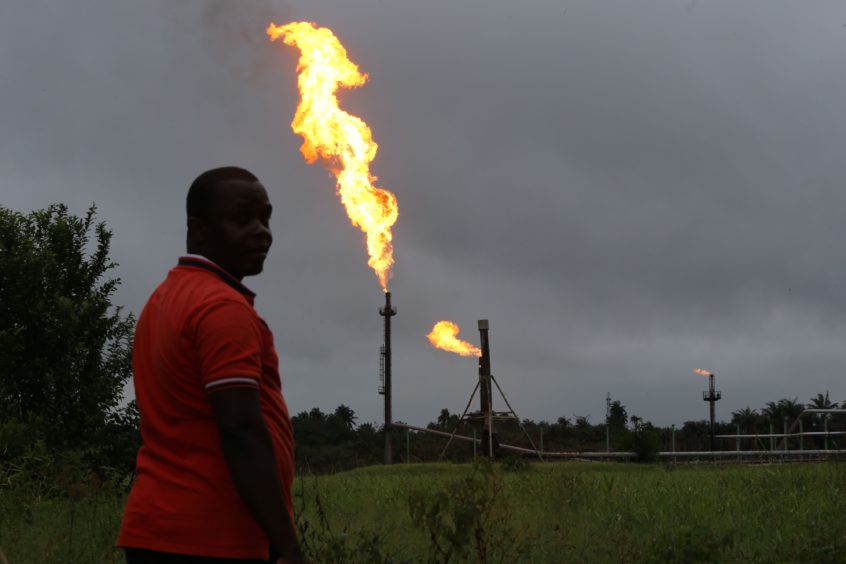 Eni SpA is seeking documents from a US investment firm helping Nigeria sue it and Royal Dutch Shell Plc for more than $1 billion over an energy deal at the center of a criminal corruption trial.
Eni claims that "undisclosed interests" are driving the Nigerian government's litigation strategy "at the expense of Eni's contractual rights and the national interest of Nigeria." The Italian oil company wants permission to subpoena information from the investment firm, Drumcliffe Partners LLC, to help its defense in the corruption trial in Milan, which Nigeria has joined as a civil party.
It's the latest episode in a long-running dispute over a 2011 transaction, pitting Africa's largest producer of crude against the two energy companies. Nigeria's government initially supported Eni's plans for developing its offshore permit, known as Oil Prospecting License 245, but subsequently "elected to wage a multi-jurisdictional litigation campaign" against the company, Eni said in a memorandum filed in U.S. District Court in Wilmington, Delaware, on Oct. 6.
Eni said it now has reason to believe the government's actions "are driven by third parties seeking to earn illicit profits," and has applied for authorization to request that seven Delaware-registered Drumcliffe companies produce documents on the arrangements they set up for Nigeria's OPL 245 litigation.
"We look forward to discrediting Eni's conspiracy theories and wild innuendo," Drumcliffe principal Jim Little said by email. The application to the court is "entirely baseless," he said.
A spokesman for Nigeria Attorney General Abubakar Malami didn't immediately respond to a request for comment.
Shell and Eni have been on trial in Milan since 2018. Italian prosecutors say the companies obtained the permit nine years ago by paying almost $1.1 billion into an escrow account for the Nigerian government. Authorities claim about $800 million was then transferred to Malabu Oil & Gas Ltd., a company controlled by a former oil minister who originally had allocated the license to himself, and distributed as payoffs.
Nigeria's current government asserts that Eni and Shell should pay a $1.1 billion penalty.
Eni and Shell have denied any wrongdoing and say they acquired OPL 245 through legitimate agreements with the Nigerian government, which required settling Malabu's outstanding claim to the block.
The prosecutor has asked for an eight-year prison term for Eni Chief Executive Officer Claudio Descalzi and his predecessor, Paolo Scaroni, who has also denied wrongdoing. The court is expected to rule early next year.
'Opaque and Ambiguous'
To litigate its OPL 245-related claims, Nigeria retained the Lagos-based law firm Johnson & Johnson, which then entered into a funding agreement with Drumcliffe, Eni says.
A Nigerian media outlet in August published what it said was the contract between the law firm and Drumcliffe. Certain clauses of the "opaque and ambiguous" deal indicated that the litigation funder could be entitled to as much as 35% of the funds recovered by the government, or nearly $400 million in the case of the Milan trial, according to Eni's memorandum.
Eni said it requires information from Drumcliffe to better understand the funding arrangement. That Drumcliffe "may have financed a billion-dollar lawsuit against Eni in exchange for an enormous and disproportionate economic return" deserves "clear answers," a spokesman for the Italian company said.
Drumcliffe and Johnson & Johnson deny allegations that the U.S. firm stands to collect a sizable portion of what the Nigerian government manages to recoup. Reports of such potential returns are "false and sensationalist," Drumcliffe's Little said.
Drumcliffe has "no direct relationship" with the Nigerian government, and its operations are limited to financing the law firm's litigation efforts, he said. Drumcliffe will be repaid out of Johnson & Johnson's success fee, not from the total assets recovered on behalf of Nigeria, according to Little.
Johnson & Johnson's principal partner Olabode Johnson confirmed that Drumcliffe will be remunerated out of his firm's recovery fee, which he said is fixed at 5% of "sums actually received" by Nigeria. "This whole controversy is staged by Eni for reasons best known to it," he said by email.
New Arbitration
Eni also intends to use information handed over by Drumcliffe in arbitration proceedings that the company initiated last month at the World Bank's International Centre for Settlement of Investment Disputes.
The company will assert that Nigeria has breached its obligations by "pursuing a campaign of unfounded claims" against Eni and refusing to allow the firm to develop the license, the memorandum said.
Recommended for you

Nigeria withdraws $1bn claim against Eni on oil field deal