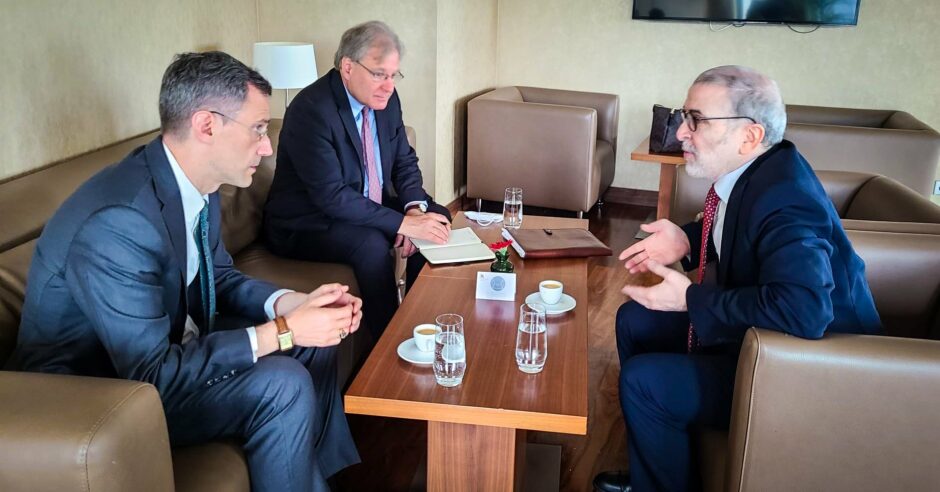 Libya's newly formed Ministry of Oil and Gas has condemned statements from the US embassy for "interference" in internal affairs.
The statements follow a recent diplomatic initiative, involving meetings in Berlin.
The US embassy had expressed appreciation for National Oil Corp.'s (NOC) work in the oil sector. In comments on twitter, the US had described NOC as Libya's "sole independent and legitimate oil company", it said, in line with United Nations regulations.
The meeting in Berlin, the US continued, had reaffirmed the international community's commitment to NOC. International players would "protect the NOC's integrity and preserve its apolitical technocratic nature for the good of all Libyans".
The comments come after Ambassador Richard Norland had met NOC chairman Mustafa Sanalla.
The ministry said Norland's comments had an impact on "national sovereignty with regard to the management of the state's resources and national wealth".
The new ministry said it was the governmental body responsible for the oil sector. The NOC is "only one of the institutions of this ministry". The US comments on the oil sector are "an attempt to undermine the efforts" of the Government of National Unity (GNU).
Norland did go on to say that NOC's technical proficiency was a "net asset" to Libya "in combination with ministry that is committed to using these resources to benefit all Libyans.
Ambassador Norland: "NOC technical proficiency remains a net asset to Libya in combination with a ministry that is committed to using these resources to benefit all Libyans." #Libya pic.twitter.com/V02xdrsjaD

— U.S. Embassy – Libya (@USAEmbassyLibya) June 25, 2021
Big earner
While NOC may be just one part of the ministry's institutions, it generates substantial amounts of cash. In May, it earned total revenues of $1.39 billion, of which $1.32bn came from oil sales. This does not include taxes and royalties.
Sanalla expressed optimism about the "general trend of oil prices". He said "we expect to achieve a surplus in revenues by the end of this year".
NOC went on to report that both units at the Al-Zawya refinery were now producing, with capacity exceeding 100,000 barrels per day.