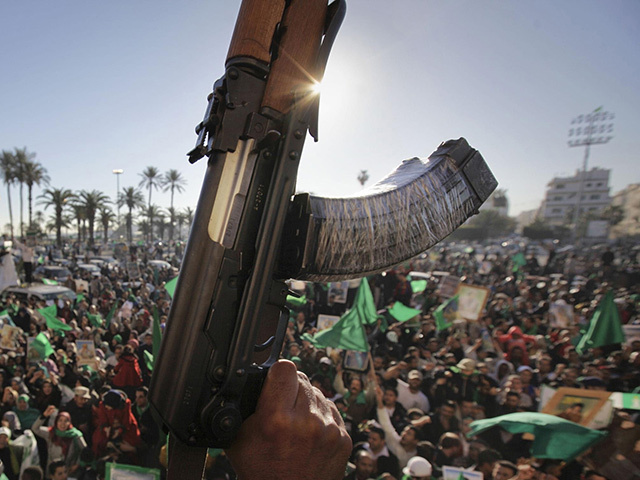 Saif al-Islam Gaddafi has filed his papers to run for president in Libya's election, due on December 24.
Local news reports show Saif – son of the late Muammar Gaddafi – filing with the Electoral Commission in Sebha. He is still wanted by the International Criminal Court (ICC). However, his lawyers have said such a request has no validity.
Saif's appearance coincided with a meeting of interested countries in Paris. UK Minister for the Middle East and North Africa James Cleverly, who participated, called for "free, fair and inclusive" elections in December.
"All candidates participating in elections must act in good faith before, during and after elections, agree to put aside partisan differences, and accept the results," Cleverly said. "The international community will not hesitate to act against those who undermine this process."
Going back
Saif has made occasional appearances in international media over the last year amid discussions of running for president. His father was killed during the civil war of 2011.
The style in which Saif was dressed in the video seems like a clear reference to his father.
The son of the late Colonel Gaddafi has pitched himself as offering security and stability.
Saif had been seen as a reformer, having gained a PhD from the London School of Economics and talked about a move towards democracy. However, as opposition to his father's rule grew in 2011 he came out against the rebels.
The ICC warrant notes "alleged criminal responsibility for the commission of murder and persecution against civilians as crimes against humanity".
The Zintan group from Libya's south captured Saif in November 2011. They released him in 2017.
During that time, he had surgery to remove part of his thumb and forefinger. At the time, claims suggested the rebels had removed these as punishment. However, it seems he was wounded in a NATO-backed bombing run, as a result of which they became infected.
NOC block
Minister Cleverly also spoke in support of safeguarding Libya's National Oil Corp. (NOC). He said that recent attacks on NOC were "clear attempts to control Libya's natural resources at the expense of the Libyan people".
He called on the Libyan authorities to protect the "integrity, unity and independence" of NOC.
NOC expressed its gratitude to Cleverly and the statement from the Paris conference. It called for an end to "all arbitrary measures and attempts of extortion" against workers in the oil sector.
It also said there was a need to protect NOC and its companies. There are "armed groups that are trying hard to invade the oil sector and monopolise it to create illegal sources of funding for it".
The company reported recently that one of its directors, Abulgasem Shengheer, had been stopped at Mitiga airport. This was "arbitrary, inappropriate and in a manner that failed to reach the expected level of responsibility while dealing with a public and national figure", it said.
NOC expressed concern that militias were carrying out "arbitrary and unofficial arrests of public figures".
Recommended for you

An oil rebound in Libya rests on shaky political foundations