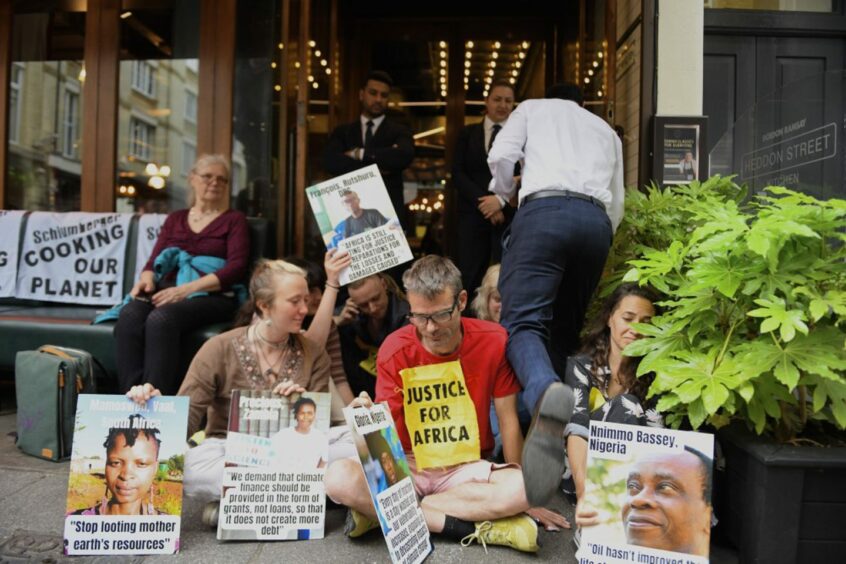 Protests have disrupted the gala dinner at the Africa Energies Summit, with a group of Extinction Rebellion activists attaching themselves to Gordon Ramsay's Heddon Street restaurant.
A statement from the activist group said that at 5:30 pm it had taken action to prevent the dinner.
Schlumberger sponsored the dinner. XR said the company provided "technologies and services to help fossil fuel companies increase their oil and gas extraction in over 120 countries".
Conference organiser Frontier Energy cancelled the dinner as a result. The organiser said the decision had been taken after discussions with the Metropolitan Police, the restaurant and sponsor.
"It is with great regret that we have been strongly advised to cancel the Gala dinner this evening as we cannot guarantee the safety of the delegates due to protestors at the dinner venue," Frontier said.
Six members of XR glued themselves to the doors and windows of the restaurant.
The XR statement cited one protester, Amelia Halls, as saying Africa was responsible for only 2% of global emissions.
At the same time, the continent "is experiencing some of the worst impacts of climate and ecological breakdown".
Halls went on to say: "Companies such as Schlumberger are profiting from the death and suffering their actions are causing, and we cannot stand by and watch this happen."
Second day
This is the second day that protests disrupted the Africa Energies Summit. On Tuesday, as the conference opened, a group of protesters stood across the doors. Some members of the group climbed the façade, setting off smoke and daubing fake oil on the front of the hotel.
A second group of three protesters had booked a room in the hotel. As the conference got under way they made their way downstairs and glued themselves to the foyer.
Inside the conference room little there was little sign of the protests, beyond the muffled voice from outside.
Those on stage also talked of Africa's insignificant share of carbon emissions and the poor rates of electrification. A number of representatives from the continent talked about how hydrocarbons were the only way to sustain an energy transition.
Agência Nacional De Petróleo, Gás E Biocombustíveis (ANPG) director Natacha Massano said Angola, for instance, must continue to focus on oil and gas development. "Saying that is tough in an energy transition environment. But remember energy transition in Africa cannot mean more poverty."
Financing the transition
Angola aims to increase its production of oil and gas. The country will work to reduce emissions and some of the proceeds will go into investments in alternative energies.
"We believe oil and gas will support the development of the Angolan economy."
However, hydrocarbons will play a critical part in Angola's efforts. These can "bring a better life, better economic prosperity to our people".
"Africa needs more energy," said Standard Chartered managing director for energy and natural resources Ade Adeola.
Only 3% of the continent's energy comes from renewables, 58% from oil and gas, while the remainder comes from biomass. "Africa needs energy for economic growth and we all have to work to unlock cleaner and more efficient energy production."
Recommended for you

Angola makes its pitch: "Flexibility is our middle name"