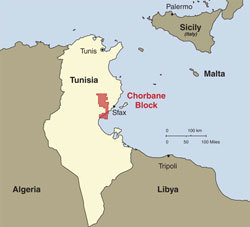 Gulfsands Petroleum has had a two-year extension to its Chorbane Licence ratified by the Tunisian authorities.
The duration of the first renewal period is now extended until July 2017 and has a minimum work obligation of 200km of 2D seismic and 1 exploration well.
The Chorbane permit covers an area of 1,940sq km in central Tunisia near the port city of Sfax and is principally an onshore permit surrounded by several producing oil fields and extensive oil and gas infrastructure.
Gulfsands has identified drillable onshore prospects for light oil and wet gas. The company's best estimate net prospective resource bookings for the Chorbane permit are 44.2 million barrels of oil equivalent.
Chairman Alastair Beardsall, said the ratification "increases the attractiveness of the block to those potential joint venture partners who have reviewed the technical data and expressed an interest in farming into the licence."