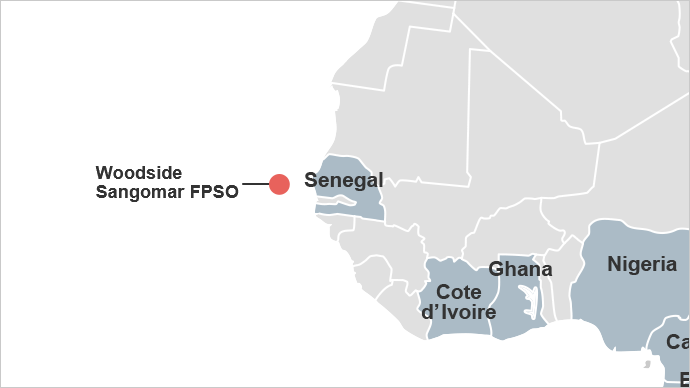 Woodside Energy has increased the cost of its Sangomar project to $4.6 billion, gross, from $4.2bn.
The company noted the increase in its first quarter results. The new sum follows a cost and schedule review on the first phase of the Senegalese project, completed early this year.
The new cost detailed engineering on the project, it said. This includes finalising development well planning, and "expected execution costs" on the development in "the current environment", Woodside reported.
Woodside's acting CEO, Meg O'Neill, said the Senegal team had made strong progress in the first quarter on the Sangomar plan.
This includes "commencement of FPSO conversion activities, first steel cut for the FPSO topsides and the ongoing construction of subsea equipment. Planning was also completed for the development drilling programme, which will get underway in the middle of the year," she said.
First oil remains on track for 2023, Woodside said. As of the end of the first quarter, Sangomar phase one was 24%.
Under way
Modec is overseeing the process under which the Astipal VLCC will be converted into an FPSO. This arrived at the Cosco shipyard in Dalian, China, in February this year, while first steel on the topsides was cut the same month.
The vessel will be named the FPSO Léopold Sédar Senghor, in honour of Senegal's first president.
Construction is under way on the turret mooring system and subsea manufacturing is progressing. The Christmas tree system was tested in Malaysia and the first batch is ready for shipment to Dakar.
Contractors have delivered a first batch of subsea wellheads to Senegal already.
Woodside plans to begin development drilling in mid-2021. The Ocean BlackRhino drillship is in Las Palmas for upgrades. Furthermore, the company is building support facilities in Dakar.
Initially, the plan had been that Diamond Offshore's Ocean BlackRhino would begin working in the first quarter of 2021. The delayed start, in the second quarter, has pushed back the end date to the fourth quarter of 2023.
A second rig, the Ocean Blackhawk, will begin working in Senegal in the second quarter of 2022. It will work on the project for 12 months. The rigs will drill 23 wells on the first phase.
Woodside is the operator of the development and has a 68.33% stake, while state-owned Petrosen has 18%.
Woodside's junior partner in the Sangomar development, FAR, is due to hold a shareholder vote on April 28. Up for debate will be whether FAR should sell its 13.67% stake to Woodside.
Recommended for you

Woodside preps for Ocean BlackHawk arrival in Senegal