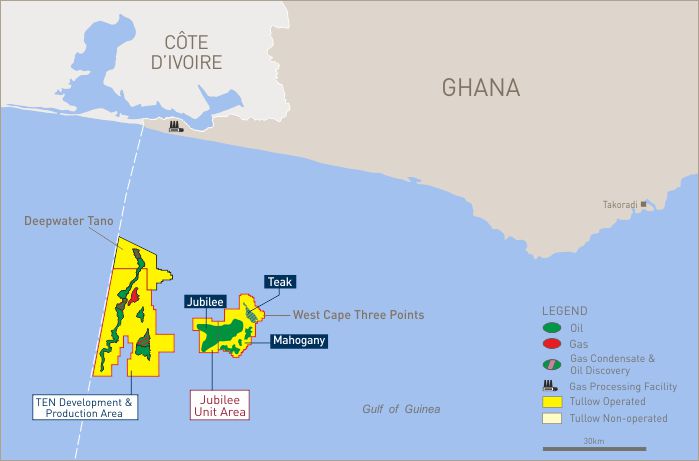 As majors shift out of mature West African assets, new opportunities may attract large independents to enter the area.
Welligence's vice president for Africa research Obo Idornigie said there was a gap for companies to re-examine West Africa, "particularly, deepwater opportunities with operating responsibilities".
Majors are looking to sell down assets in the region as they focus on new opportunities, not least in the energy transition.
Idornigie was speaking in the context of Kosmos Energy's purchase of Occidental Petroleum's stake in two Ghanaian projects, Jubilee and TEN.
Kosmos said it would pay $460 million after closing adjustments for the 18% stake in Jubilee and 11% stake in TEN.
Kosmos paid a price of around $5 per barrel of reserves for the Ghanaian acquisition, the Welligence executive said. This is "in the same ballpark" as other local deals, such as Panoro Energy's acquisition in Gabon and Equatorial Guinea.
Where Kosmos has found its edge in exploration, it has tended not to take the lead in operating. While US companies have moved away from Africa in the last 10 years, there may be scope for a return.
Nigeria is looking more attractive, with the passing of the Petroleum Industry Act (PIA), Idornigie said, with Shell and ExxonMobil looking to sell down assets. Angola is also on offer, with Sonangol working to bring in new partners and financial support.
"Independents are the obvious buyer," the Welligence executive said. However, they will face financing challenges, given ESG pressures.
Ghana plans
Oxy acquired a handful of African assets in 2019, as part of its $38 billion acquisition of Anadarko Petroleum. The company had hoped to sell the African holdings on to Total for $8.8bn.
"Oxy has been looking to exit and this gives them the opportunity. Kosmos has been open to bolt on, accretive opportunities. It works for all stakeholders involved," said Idornigie.
Operator Tullow Oil began an expansive drilling campaign in Ghana in April this year. It has the aim of reaching a recovery factor of 40%.
Given Tullow and Kosmos' commitments to ending gas flaring.
Operator Tullow intends to cut flaring on Jubilee by carrying out gas compressor work and expanding the handling capacity of the facilities. They intend to complete this by 2022. Welligence also expects the partners to push to increase gas sales to the domestic market.
Kosmos was not alone in buying into Oxy's Ghanaian stake, state-owned Ghana National Petroleum Corp. (GNPC) was also involved.
GNPC has committed to paying $200mn for the rest of Oxy's stake. The Welligence executive noted this move was demonstration of the state-owned company's determination to push projects forward, alongside its plans to back Aker Energy's Pecan project.
Recommended for you

GNPC under fire for PetroSA plans, decom contract