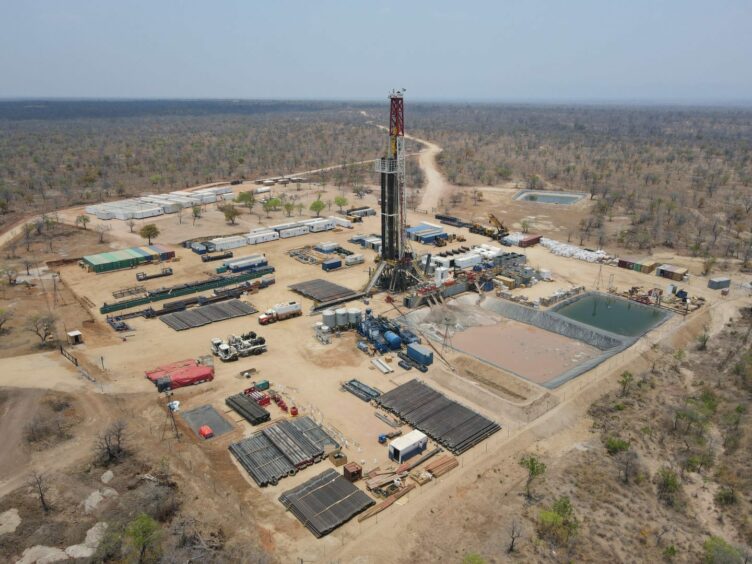 Drilling problems have defeated Invictus Energy, for now, with the company bringing its first exploration well to a close. While pressure has proved to be a challenge, there have been encouraging results.
The company began drilling the Mukuyu-1 well, in Zimbabwe's Cabora Bassa Basin, in late September.
By mid-November, Invictus was reporting positive results. The well found a working petroleum system, with particular interest in the Upper Angwa.
However, there were challenges with drilling. On January 3, the company had managed to retrieve stuck tools, but that more work would not be feasible. As such, Invictus has brought operations to an end and demobilised its equipment and people.
Invictus has used Exalo Drilling's Rig 202 for the Mukuyu work. The company has reached an agreement to keep the rig warm stacked in the Cabora Bassa for the next 12 months.
This will allow it to carry out future drilling in the basin, the company said. It is making preparations for at least one firm well in 2023, with more wells a possibility.
Invictus managing director Scott Macmillan made it clear that there was more work to be done.
"We are particularly encouraged with the Upper Angwa Alternation Member horizon", he said. The well "proved up the hydrocarbon potential over a 900 metre gross interval with elevated gas shows up to 135 times above background and fluorescence to TD", the executive said.
There remains "deeper untested potential and a further 300 metres of updip potential at the crest of the structure", Macmillan said.
Drilling the well and sidetrack were a "tremendous success", Macmillan said.
Picking wells
Results "have put us in a strong future position given the petroleum potential of the basin has been proven. We have an exciting portfolio of additional prospects and leads which has been substantially de-risked in addition to Mukuyu."
Invictus may choose to drill Mukuyu-2 this year or the Baobab-1 well. The company has not yet committed. The company has previously said the Baobab prospect has similarities to the Kenya and Uganda discoveries.
"The stacking of the rig at Mukuyu-1 will allow Exalo to perform maintenance and upgrades of the rig" before drilling the next well, Macmillan said. The company will source long lead items, tender for services and integrate information "into the geological model to determine future drilling locations", he said.
Macmillan explained to Energy Voice that analysis of options would determine its next step.
It may go for an "immediate appraisal well at Mukuyu with the aim of proving up a large resource and obtaining a fluid sample so that a formal discovery declaration can be made", he said.
"Alternatively we could drill Baobab-1 to try and prove up a new play which opens up a significant amount of running room in the basin margin play with multiple look-a-like prospects along trend."
Tool talks
During drilling at Mukuyu-1 a wireline formation testing tool became stuck. The company attempted to use the rig to retrieve the tool but ran into related problems.
It eventually managed to free the wireline cable but the testing tool was stuck. It required around 50,000 foot-pounds of pressure to free the tool. The tool is now unusable, until it can be assessed and repaired, but it has been retrieved.
Updated with comment from Macmillan about well choices.
Recommended for you

Invictus drills into well findings to call success